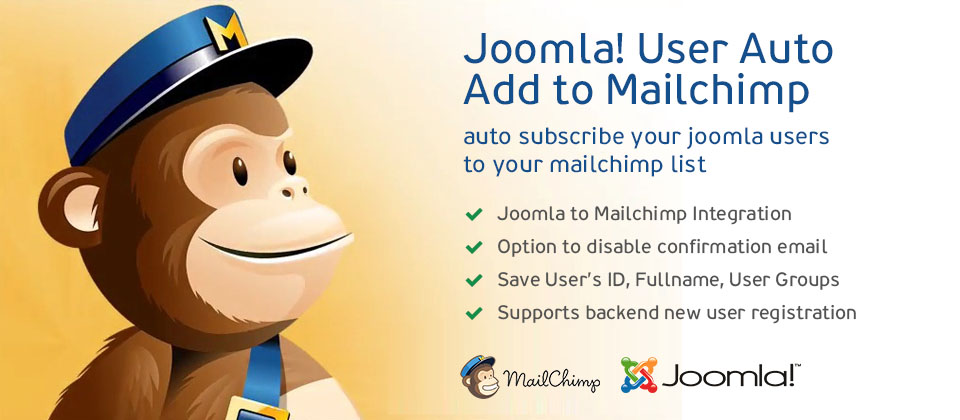 Get more subscribers to your Mailchimp list!
When a user registers on your website they are automatically added to your Mailchimp list by this plugin silently on the background. There is an option if the Mailchimp system will send a confirmation email or not. Also you can enable/disable the full name field
Features
Auto Subscribe users on Joomla registration
Joomla to Mailchimp Integration
Supports new user registration through administration panel
Option to disable confirmation email through Mailchimp
Option to assign or not user's full name
Customize extra mailchimp field
Compatible with JomSocial, CommunityBuilder, VirtueMart, K2 Store
Full Compatible with Joomla 3.x, 2.5
One-Click Update
No coding needed
Instant Support
Screenshots


Installing on Joomla 3.x, Joomla 2.5
Login to administrator page
Go to extensions -> Extensions Manager
Choose "Browse" and find the tm_mailchimpuserautoadd_1.0.0_j25.j30.zip file
Click "Upload & Install" button
After installation has complete go to Extension -> Plugin manager
Find the "TM Joomla Extensions - Mailchimp User Auto Add" plugin and click for edit
There are 2 required fields. One for API Key and one for List unique id that you will find it at your Mailchimp Account.
Mailchimp Help
Where can I find my API Key?
Tutorial with screenshots & video
How can I find my List ID?
Tutorial with screenshots & video
Version History
v2.0 (30/11/2014)
Improved performance
Fixed wrong detection of new user
Added option to save user's id and user groups to extra Merge Tags
Note: You must set "New User Account Activation" to "Self" or to "Admin"
Read also
Support
Please double-check your API Key and your list unique id before dealing with bugs and problems. You can contact me here or via Twitter
Combine with Responsive Scroll Triggered Box for Joomla!
Check this amazing Call-to-Action popup box for Joomla that will boost your subscription list to 5 digit and beyond!
Custom Modifications
If you need custom modifications for this plugin or you have in mind a new one for your website just ask me to. I will be glad to help you.