Merchants can now give Google detailed product information to display rich results right on the Google Search results pages. It is an effective way to attract potential buyers while they are searching for items to buy on Google. Let's see how to create a Product Snippet.
How to markup Joomla Pages with the Product Schema
From the main menu choose Components -> Google Structured Data. Click on Items from the left sidebar and then on the New button to create a new Structured Data Item.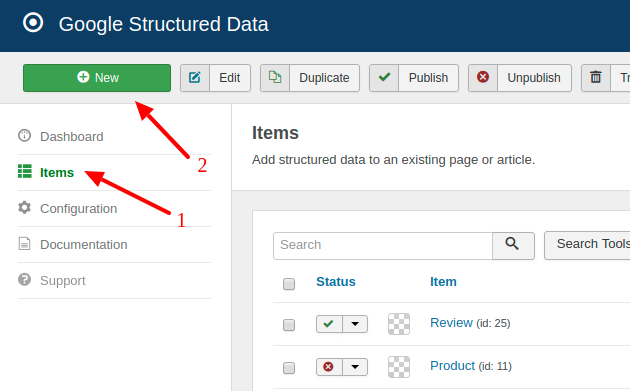 On the next page, you will need to prepare the Structured Data Item. Enter a Title (it can be anything) and select the Product Content Type from the respective dropdown.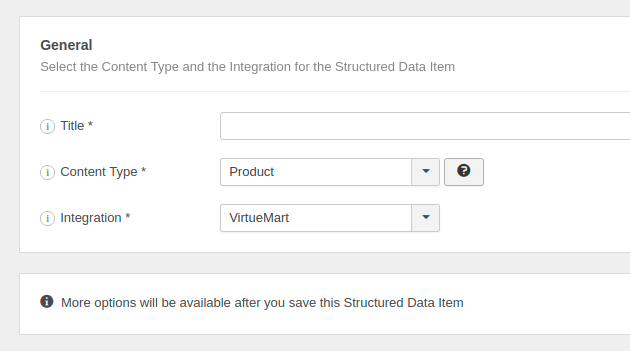 Τhe Integration option may vary depending on the component you want to markup at that time. View the
Supported Integrations
.
Next, click to save the Structured Data Item. Once the page reloads, a new section called Product appears below where you can map each property with page data.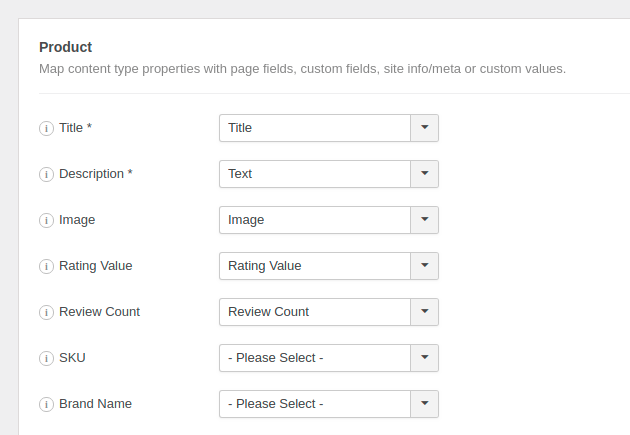 To read more details on how the mapping works, visit the respective section in the How to Add Structured Data to Pages guide.
Product Schema Properties
Here's a table of the properties you can define in the Product Content Type.
| Name | Description |
| --- | --- |
| Title | The name of the product. |
| Description | Product description. |
| Image | The URL of a product photo. Pictures clearly showing the product (for example, against a white background) are preferred. |
| Rating Value | The rating for the product. |
| Review Count | The count of total number of reviews. |
| SKU | The stock keeping unit of the product. |
| Brand Name | he brand of the product. |
| Price | The price of the product. |
| Currency | The currency used to describe the product price, in three-letter ISO 4217 format. |
| Condition | The condition of the Product. Eg: New, Damaged. |
| Availability | The availability of the product. Eg: InStock or OutOfStock. |
| Price Valid Until | The date after which the price will no longer be available. |
General rule: Always markup content that is displayed on the page to visitors. Doing otherwise you may end up with a Spammy Structured Markup Penalty.
Useful Links