The Review snippet is optimal for posts which contain a critic review of a Product, a Business or anything else of a generic nature. With the Review snippet Google will prominently display the critic's name and the publisher's logo along with the rating of the review. Lets see how to create one.
Navigate to Components > Google Structured Data > Items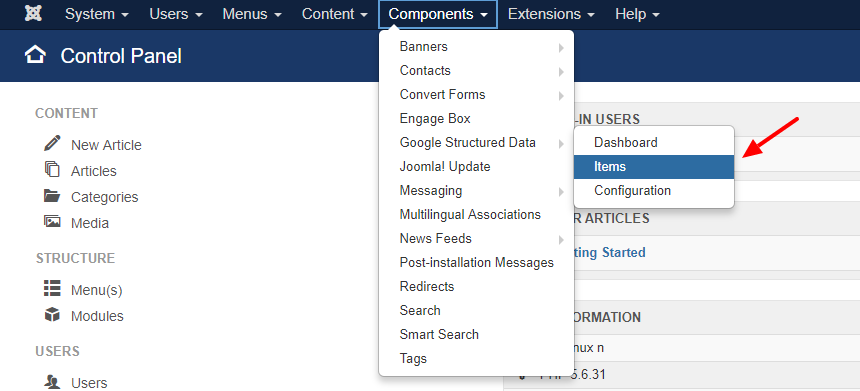 You will be located in the Items Manager Screen from which you can either edit an existing item or create a new one.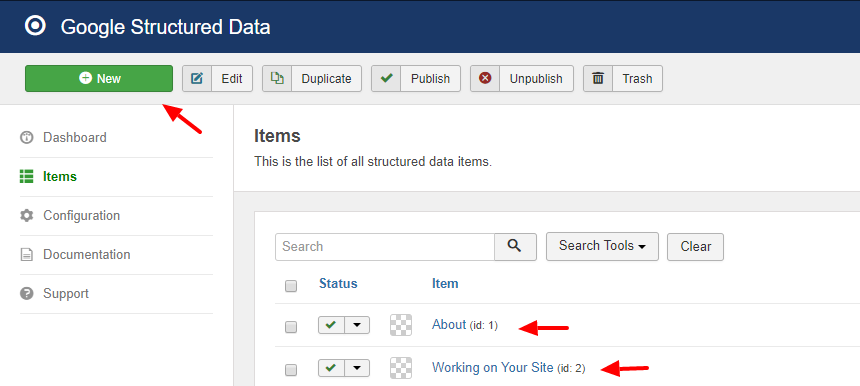 Creating a new item means that you have to select the Content Item from any of your components which are supported as Integrations.

Once you click on the select button, a modal will appear which contains the Content Items for each of your components. In this modal you need to select the component to which the content item belongs and then select the content item itself.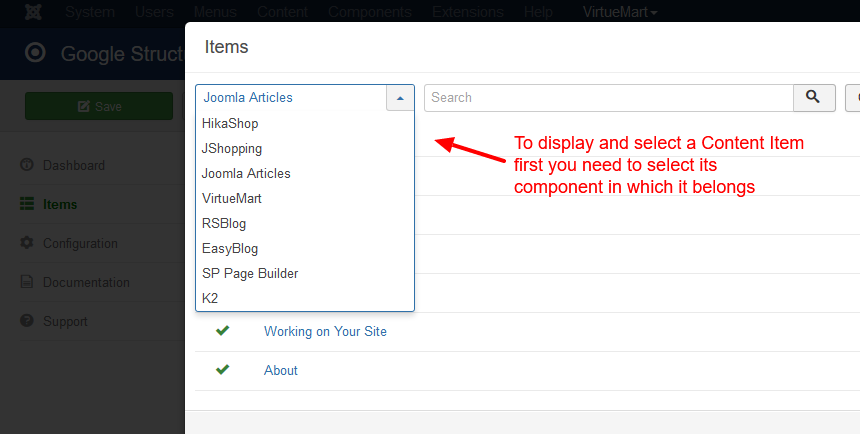 Then, select the "Review" Content Type in order for its fields to appear below.

Finally, the "Review" Content Type has a certain set of fields that can be filled out. Let's see them one by one.
Name
Description
Item Reviewed Name
The name of the item which is being reviewed. It can be a business name, a product name or anything else which can be reviewed.
Item Type
The type of the item which is being reviewed. The options are Local Business, Product or General. See below the explanation of the extra fields which appear especially for the Local Business type.
Image

The image option has the following 3 choices

Inherit : Use the article's main image.
Upload : Upload your own image.
Custom URL : Add a custom URL of an image.

Rating

The rating option has the following 3 choices

Disabled: Do not add a rating snippet inside the Content Type.
Inherit: Use the article's voting data automatically, if there are any.
Custom: Manually enter the average rating of the article and the total amount of reviews it currently has.
If the Item Type is "Local Business" then the three extra fields below are immediately available upon selection.
| Name | Description |
| --- | --- |
| Address | The address of the Local Business as specific as possible. For example, 44 Shirley Ave. West Chicago, IL 60185. |
| Price Range | The price range for the products sold by this Local Business. For example, if the lowest price is $10 and the highest price is $100 then the price range is "$10 - $100". |
| Telephone | The telephone of the Local Business. For example, +12025550167. |