MailChimp Auto-Subscribe
Auto-Subscribe your Joomla Users to MailChimp during registration
Version:

5.0.1

Date Updated:

Mon, 29 Aug 2022

Compatibility:

J3.8, J3.9, J3.10, J4.X

Includes:

Plugin


Buy Pro
from 29€
30-day money back guarantee on all plans! No questions asked.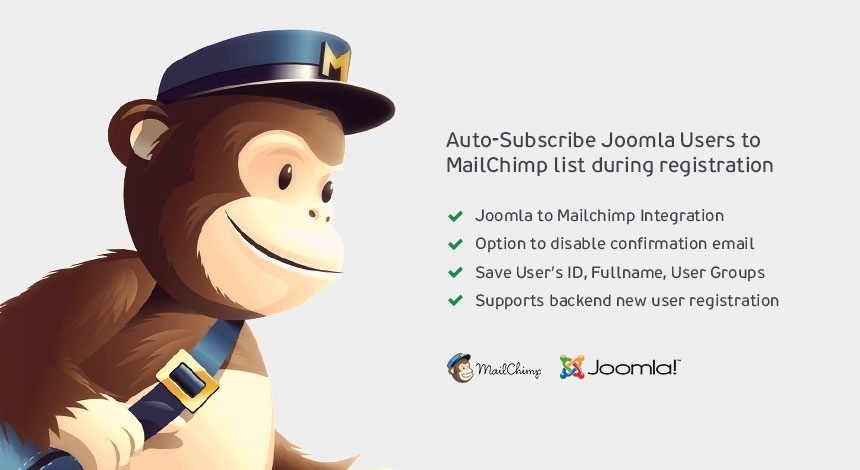 When a new user registers on your website they are automatically added to your Mailchimp list by this plugin silently in the background. Choose if you want Mailchimp to send a confirmation email or not.
Features
Auto-Subscribe Users during registration
Map User info such as Email, Username, Groups e.t.c
Map User Custom Fields
Map User Tags
Subscribe to different list per language
Sync users created via the backend
Skip Mailchimp's confirmation (double optin) email
Add Consent Field to Joomla Registration Form
Works with any 3rd-party extension that utilizes the Joomla! registration system
One-Click Install
No coding needed
Instant Support
Map any user info to MailChimp
Here's a list with the available User Info that you can track and sync with MailChimp Merge Tags
User

ID
Full Name
First Name
Last Name
Username
Email
Group IDs
Group Names
User Custom Fields

Technology

Operating System
Browser
User Agent

Other
Awesome Compatibility
JomSocial
HikaShop
J2Store
CommunityBuilder
VirtueMart
J2Store
K2Store
JoomShopping
Membership Pro
Screenshots
Combine with EngageBox
Create awesome subscription popups for Mailchimp like this and boost your subscription list to 5 digits and beyond!