EngageBox
Best Joomla Popup and Leads Generation Extension
Version:

3.5.0

Date Updated:

Thu, 18 Apr 2019

Compatibility:

J3.8, J3.9, J4.0

Includes:

Plugin, Component


Buy Pro
from 29€
30-day money back guarantee on all plans! No questions asked.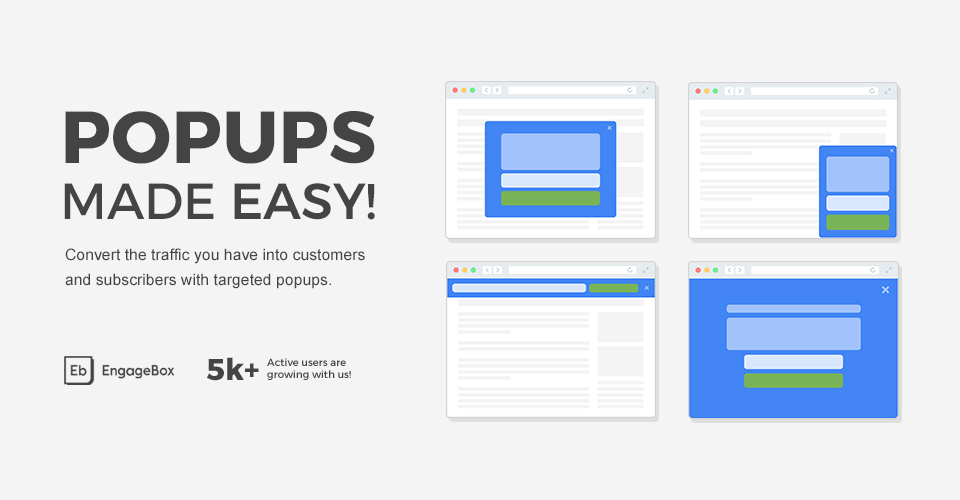 The Most Popular Joomla Popup Builder extension in the Market
Converts your website visitors into subscribers and customers with awesome popups like this or this. Here are the features that make Engage Box the most powerful customer acquisition & lead generation platform for Joomla! marketers.

Multiple Box Types
You can create multiple types of boxes such as lightbox popups, floating bars, slide-ins, sidebar forms, and more.

Exit-Intent Technology
It detects user behavior and prompts them with a targeted popup at the exact moment they are about to leave.

Page & Device Level Targeting
Show targeted messages on specific pages/urls or mobiles and tablets or even to certain user groups to build a hyper targeted and segmented email list.

Control Exactly When Box Triggers
Timing is everything when it comes to popups. Trigger when your visitors are half-way down your page or when they click on a link or even when the page is loaded.
 
Mobile Optimized & Responsive
Whether you want to increase your mobile app downloads or display targeted messages only to mobile or tablet audience, Engage Box is 100% mobile optimized and responsive.

Load Any Joomla Module
Load your existing AcyMailing or MailChimp module to collect more email subscriptions or to display a module containing K2 or Content related articles to increase session duration.

Position Everywhere
Some of us are right-handed, some left-handed. Engage Box doesn't discriminate. You can configure your box to appear from any corner of your website.

60+ Transition Effects
With eye-catching animations effects you can play the role of a play director more than ever! Pop your boxes to your user's screens almost in any way imaginable!

Google Analytics Integration
Get the stats that matter and take action. See which boxes are performing the best and improve accordingly within your Google Analytics dashboard

Highly Customizable
Total control of the appearance such as colors, size, background, border, paddings, overlay and more so you can completely match it to the design of your site.

Lightning Fast
Built with performance in mind. It will never slow down your site.

Open Source
Fully open source and the code is NOT encrypted in any way. No use of Zend Optimizer or ionCube. You are free to change the code to your likings.
See how it looks on your website!
Enter your website URL below and we'll show you.
Compatible with all Joomla Modules
Popup any existing Joomla! module. No Limits!
All Powerful Features
Create multiple boxes per page
7 Box Types

Popup any existing Joomla module
Email Subscription Responsive Form
Custom text popup
Social Media

Facebook Page Like
Facebook Post
Twitter Follow Button

IFrame URL

It's Responsive! That means it works perfectly on tablets and smartphones
Device detection for mobiles, tablets and desktops
Cookie based popup per minutes, hours, days or session
60+ transition effects
16 Publishing Assignments

Assign to Menu Items / Pages
Assign to Joomla! Articles & Categories
Assign to Datetime range
Assign to Countries/Continents
Assign to User Groups
Assign to devices (Mobile,Tablet,Desktop)
Assign to URLs
Assign to Domain referrer
Assign to Languages
Assign to User time on Site
3rd party extension assignments

Assign to Convert Forms
Assign to Akeeba Subscriptions
Assign to AcyMailing

Custom PHP assignment

8 user behavior tracking events

on Scroll - % of Page Height
on Scroll - Element
on Page Ready
on Page Load
on Page Leave (Exit Intent Technology)
on Hover Element
on Location Hash
On Click/On Demand

7 Trigger Positions

Top: Left, Center, Right
Bottom: Left, Center, Right
Center

Google Analytics Integration
Delay animation in miliseconds
Fully Customizable Look

Width/Height
Background Color & Image
Text Color
Border Color
Padding
Box Shadow
Background Overlay Color/Opacity

Auto-Close timer
Test-mode for administrators
Prepare popup's content with the Joomla Content Plugins
Import/Export Boxes
Right-to-Left support
Custom CSS Styling
Plugin Layout Overrides
Compatible with Joomla 3
Compatible with Joomla 2.5 till version 2.2.1