EngageBox
Best Joomla Popup and Leads Generation Extension
Version:

3.5.0

Date Updated:

Thu, 18 Apr 2019

Compatibility:

J3.8, J3.9, J4.0

Includes:

Plugin, Component


Buy Pro
from 29€
30-day money back guarantee on all plans! No questions asked.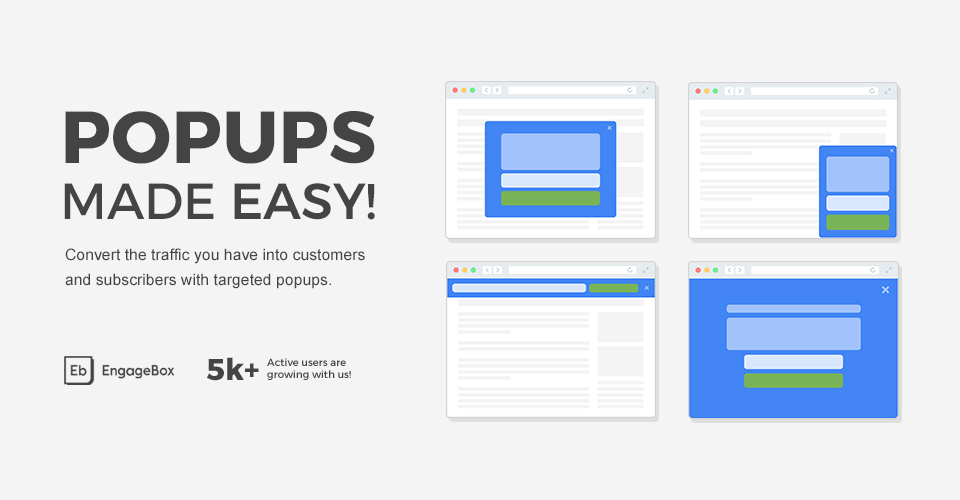 Features & Development Roadmap
Our development cycle is fast. We frequently update EngageBox with bug fixes and new features to make it an even more valuable resource for you. We take your suggestions very seriously. Here's the current roadmap of new features.
Coming Soon
Geo City & Region Assignment
Recurring Datetime assignment
Returning vs New visitor assignment
Box Gallery
Joomla! Content Box Type
Teaser Box Type
Video Box Type
Center Left & Center Right trigger positions
Joomla Tags Assignment
Box Statistics
Recently Completed
The K2 assignment
User ID assignment
Number of Pageviews assignment
Time Range assignment
Browser / Operating System assignment
Component assignment
IP Address assignment
Cookie assignment
User Viewed Another Box assignment
New Smart Tags: Device, Operating System, Browser
If you have a feature that we don't have listed on our roadmap, please let us know.