EngageBox
Best Joomla Popup and Leads Generation Extension
Version:

3.4.11

Date Updated:

Sat, 09 Feb 2019

Compatibility:

J3.8, J3.9, J4.0

Includes:

Plugin, Component


Buy Pro
from 29€
30-day money back guarantee on all plans! No questions asked.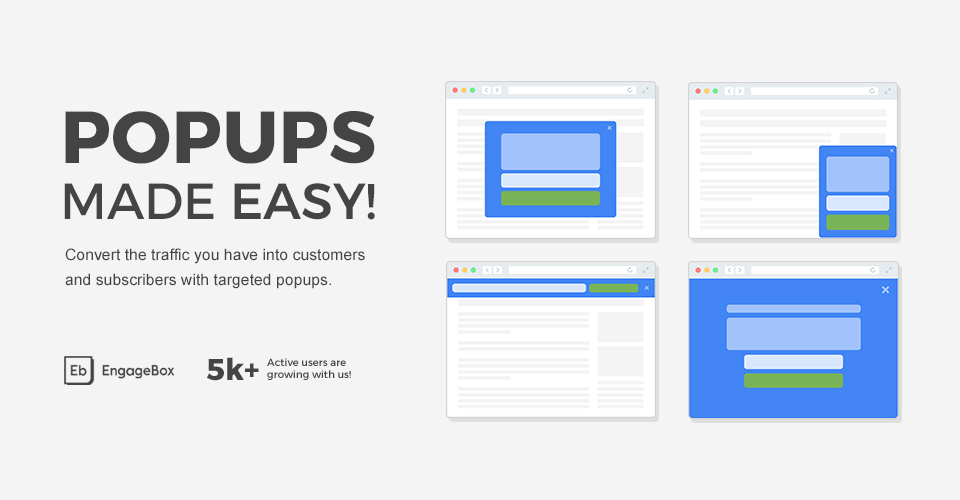 Features & Development Roadmap
I am continually improving Engage Box to make it an even more valuable resource for you. I take your suggestions very seriously. Here is the current roadmap of new features.
Coming Soon
Geo City & Region Assignment
Recurring Datetime assignment
Returning vs New visitor assignment
Box Gallery
Joomla! Content Box Type
Teaser Box Type
Video Box Type
Center Left & Center Right trigger positions
Joomla Tags Assignment
Box Statistics
Recently Completed
The K2 assignment
User ID assignment
Number of Pageviews assignment
Time Range assignment
Browser / Operating System assignment
Component assignment
IP Address assignment
Cookie assignment
User Viewed Another Box assignment
New Smart Tags: Device, Operating System, Browser
If you have a feature that I don't have listed on my Roadmap, please let me know.