After installing the Pro version of an extension, you need to activate it. In this documentation we will showcase how to activate your download key and receive auto-updates from within your dashboard!
Once you have added your download key into the Tassos Framework system plugin, you don't need to repeat this and any other Pro extension you install moving forward will automatically have auto-updates!
To activate your Pro version, and get automatic updates, you need to go into your Downloads page and copy the Download Key found on the right-hand sidebar.
Having copied the Download Key, you will need to go into your Joomla Dashboard > Plugins > Search for "System - Tassos Framework", click to edit the plugin and paste the copied Download Key into the Download Key field.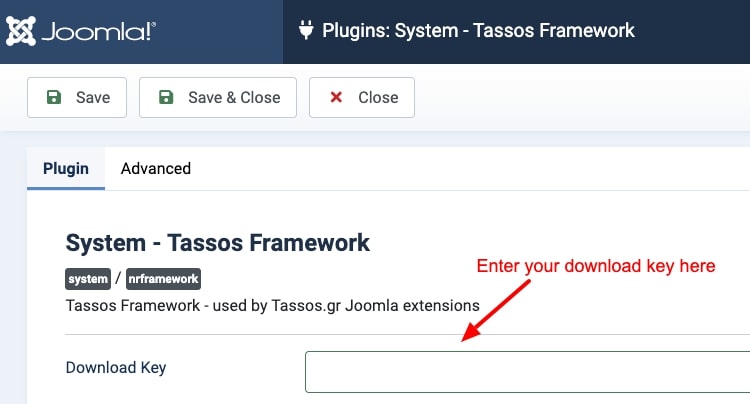 Finally, click on "Save" to save the Download Key into the "Tassos Framework" system plugin which will ensure all Pro extensions installed will benefit from all Pro-related features.
That's it! You're now able to update any of our extensions using the Joomla Update Manager whenever a new version is available.
Notes
Try to paste the Download Key to notepad first in order to remove unwanted special characters.
Setting your Download Key does not mean you will also get the Pro version of the extension. You will need to download and install it on top of your existing version.