The past 2 releases of the Google Structured Data extension not only have several fixes and improvements but they have also introduced 4 great features. Version 4.2.0 published on September 30th and increased the number of supported components to 16 by introducing the Quix Page Builder and SobiPro integrations. Just 3 weeks later, v4.3.0 came out with the long-awaited FAQ Schema type. In addition, it has been added support for Google's new robots meta control for rich snippets.
FAQ Structured Data Schema Type
One of the most requested features in the past months was, without doubt, the FAQ Schema (more than 100 requests). The FAQ Schema Type, is available since v4.3.0 and it can help you markup a list of questions and answers or a so-called FAQ page, with structured data and make it eligible to have an eye-catching, real estate-grabbing listing rich result on Google Search and Google Assistant as you can see in the video below.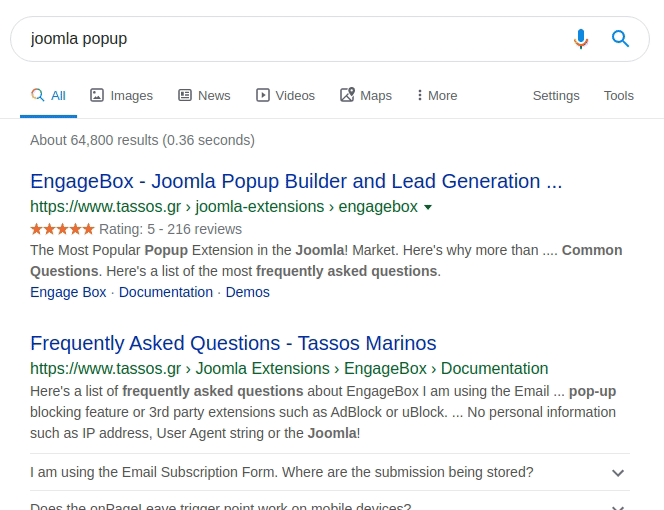 Why is this so important? Well, if implemented correctly, your listing can take up so much space in search results to push down all your competitors. This is ultimately what will gain you more clicks.
To learn more details, visit the FAQ Schema guide.
Quix Page Builder and SobiPro Integrations
If you're a Quix Page Builder or SobiPro user, you can now mark up your pages with structured data. Both integrations offer options you can use to easily map a schema property to the respective page option such as text, title or even a custom field.

To read more details about each integration, visit the respective guide for Quix Page Builder guide and SobiPro.
Robots meta changes for Google
Google introduced a new set of robots meta controls, that allows sites to limit the display of their snippets in the search results. With their newly introduced robots meta controls, you can say things like: "I don't want you to show more than 200 characters from my site!" or, "I don't want you to show images from my site!".
Why would anyone who wants an optimized site for Google's search results, do any of that? If this doesn't make much to you as well, there's an explanation.
France's new copyright law
France introduced a new copyright law that requires publishers to opt-in to a display of their snippets in the search results. In response to that law, Google started removing snippets and images from news sites from displaying in French search results, unless publishers displaying content in France have specified how much of this content they want to show using the new robots meta control for snippets.
A simple change to Google Structured Data extension
According to Google, this change affects more than just French news sites, it affects all European news sites. That's why I've decided to make a change for all Google Structured Data extension users. Every page will have the following robots meta bit added to its robots meta string if that page was not already set to noindex or nosnippet.
max-snippet:-1, max-image-preview:large, max-video-preview:-1
This makes sure that nobody runs into unexpected surprises and we're ready for implementations of this law around Europe.
Changelog for v4.2.0 and v4.3.0
Below you can find a combined changelog for both v4.2.0 and v4.3.0 releases.
Implements the FAQ Content Type.
Implements the Quix Page Builder Integration
Implements the SobiPro Integration
Adds meta robots tag "max-snippet:-1, max-image-preview:large, max-video-preview:-1" automatically to all pages.
Adds Browser Page Title to the mapping options list
Adds supports for the Review Product Schema to Virtuemart and Hikashop.
Adds Transcript option to Video Schema Type.
Fix critical bug where the date's timezone offset is not calculated correctly.
Fix PHP Warning: count(): Parameter must be an array or an object that implements Countable thrown the Fields Content Plugin.
Fix Job Posting Valid Through Date property which doesn't take into account the site's timezone.
Fix the wrong value of the "offerAvailability" property in Virtuemart products.
Fix: SP Page Builder-based 404 Error Page breaks resulting in a "page not found" error.
Improve the display of the Google Structured Data runtime logs in the front-end.
Updates Spanish (es-ES) translation.
Removes the Rating Value and Review Count options from the Article Schema to comply with the new Google requirements.
The invalid BreadcrumbList microdata added by Joomla is now removed by default.
Improve detection and removal of the default BreadcrumbList microdata added by Joomla.
Improve content preparation with plugins.
Can you spare 2 minutes to write a review on JED?
If you have a minute, I'd love it if you would take a few seconds to share your experience by writing a review on JED and tell other folks how the Google Structured Data extension has been useful to you.