Exciting new enhancements have arrived for our Joomla products this month. EngageBox brings improved popup design controls, allowing you to choose units for precise customization across devices. Google Structured Data introduces CSS Selectors for comprehensive schema markup, while Advanced Custom Fields 2.7 features a powerful Video Field for seamless video management.
Embrace these updates and take your Joomla website to new heights! Happy designing and developing!
EngageBox 6.1: Improved Design Controls
We are thrilled to announce the release of EngageBox v6.1 - the latest version of our powerful Joomla popup builder extension. With this update, we are bringing you an array of exciting features that will elevate your popup designing experience to new heights.
Select Your Preferred Unit
In the previous versions of EngageBox, you were limited to using fixed pixel values for each option, making it somewhat rigid to customize your popups exactly as you envisioned. But not anymore! EngageBox v6.1 introduces the ability to select the unit for specific options, allowing you to choose between px, %, em, or rem. Now, you can perfectly fine-tune your popups, effortlessly adapting them to various screen sizes and devices.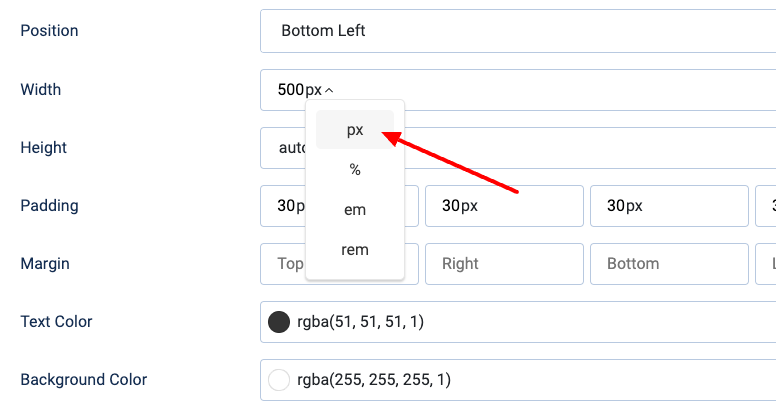 Advanced Padding and Margin Controls
Gone are the days of manually entering syntax formats for margin and padding options in a single textbox. EngageBox revolutionizes the Padding and Margin Controls by introducing dedicated controls for each side. But that's not all - we've also added the convenience of linking and unlinking values. By doing so, you can effortlessly maintain consistency or have independent values for different sides, making popup design a breeze.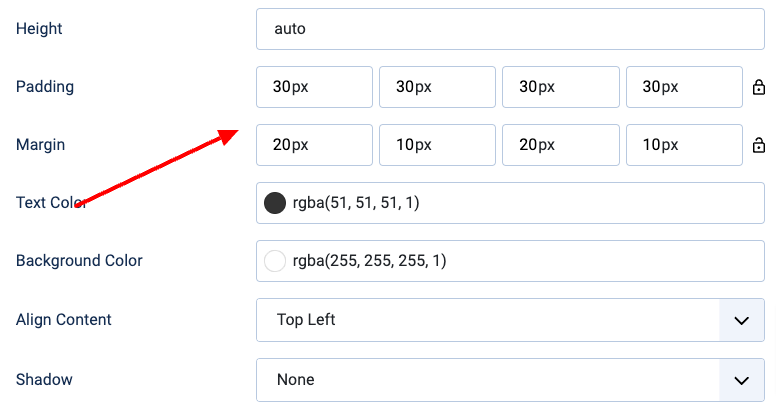 Responsive Design for Different Devices
In the earlier versions of EngageBox, creating responsive popups for different devices meant creating multiple popups or relying on custom CSS overrides. EngageBox v6.1 changes the game by allowing you to define different options for each screen breakpoint - Mobile, Tablet, and Desktop. Now, you can effortlessly tailor your popups to suit various devices easily, all within a single popup! No more hassle, just intuitive customization.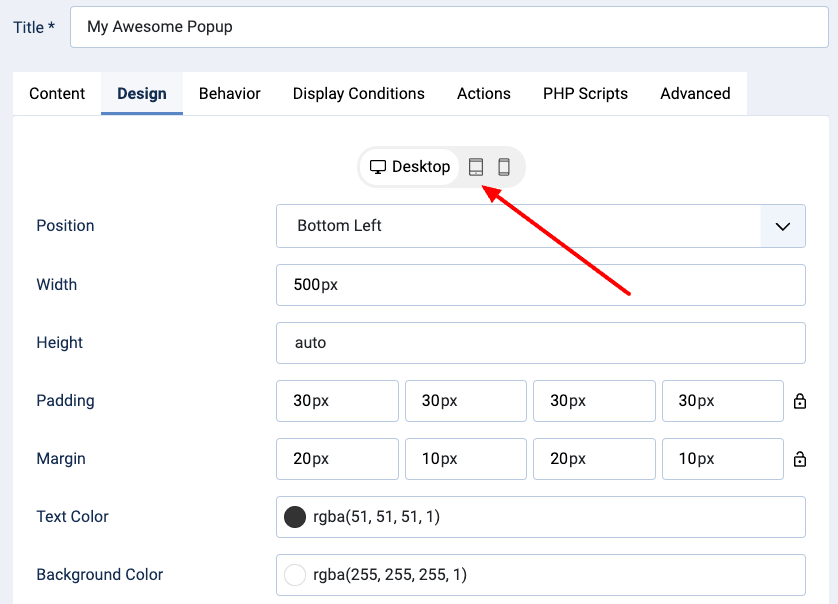 Embrace the Future of Popup Customization
With EngageBox v6.1, we are empowering you to take control of your Joomla popups like never before. Experience the newfound freedom of choosing units, the ease of padding and margin controls, and the convenience of responsive customization. Whether you're a seasoned designer or a Joomla enthusiast, EngageBox now has something for everyone.
Google Structured Data 5.3.2: CSS Selectors, Article Schema Subtype
We are thrilled to announce the latest update to our Google Structured Data extension, bringing you two powerful highlights that will take your structured data markup to the next level!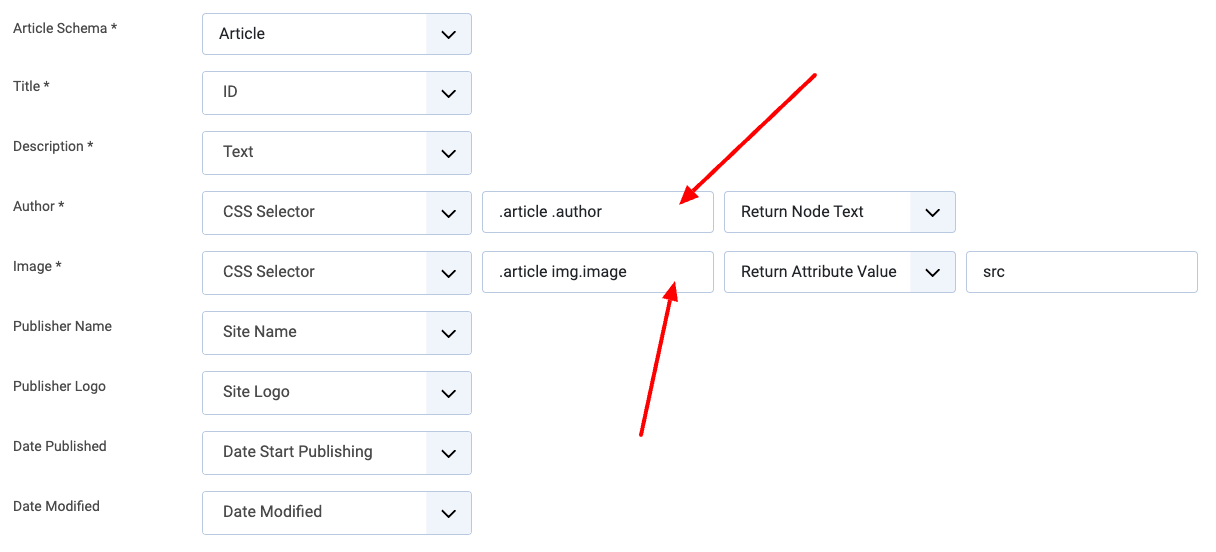 CSS Selectors
Our Google Structured Data extension now comes equipped with CSS Selectors. This cutting-edge feature revolutionizes how you can map schema properties to information from any HTML element on your page. No longer restricted by the limitations of integrated components, CSS Selectors empower you to:
Read the Text of any Element: Extract text data from any HTML element on your page and seamlessly use it to populate schema properties.
Read the HTML or Inner HTML of any Element: Capture the HTML content of targeted elements to enrich your structured data, providing more context and relevance.
Read any Attribute Value of any Element: Extract attribute values (e.g., image URLs, links) from specific elements and include them in your schema, making your structured data more comprehensive.
Read the Elements Total: Count and aggregate elements that match your CSS Selector criteria to create comprehensive, structured data, giving you a better overview of your content.
With this powerful integration, you can effortlessly mark up any page on your Joomla site with structured data, even if the information comes from unsupported components or custom sections. Using the Menu Manager, you can select the desired Menu Item, apply the appropriate CSS Selectors, and witness the missing information seamlessly incorporated into your schema properties.
Article Schema Subtypes
Understanding that every content is unique, our Google Structured Data extension now offers Article Schema Subtypes. These subtypes allow you to choose your content's most suitable markup type, ensuring optimal indexing and presentation in search results.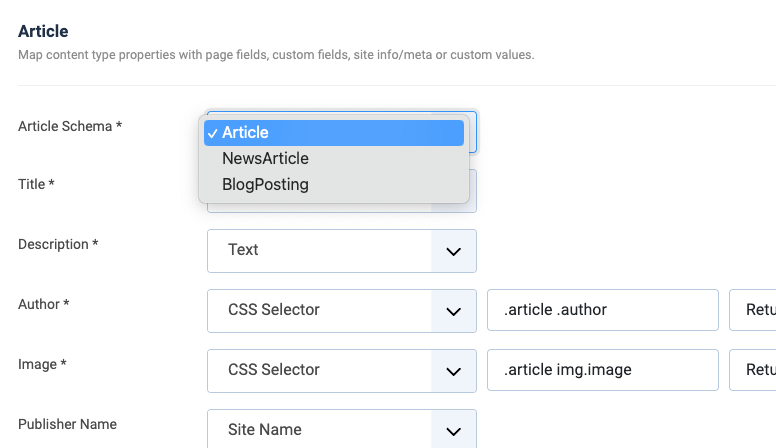 Let's explore the options:
Article: Unchanged from our previous version, this subtype is perfect for general content articles on your website. It's ideal for informative, educational, or entertaining standard articles and blog posts.
BlogPosting: If you maintain a blog with regularly published chronological entries or posts, the BlogPosting subtype is a perfect fit. Use it for individual blog posts relevant to your blog's niche and following a sequential order.
NewsArticle: For content involving reporting on current events, news updates, or time-sensitive information, the NewsArticle subtype is the most appropriate option. Mark articles that provide timely and relevant news to your audience.
Switching between these subtypes is simple and quick, empowering you to tailor your structured data to match the unique characteristics of your content. Our user-friendly interface makes it easy to manage your preferences and keep up with evolving SEO best practices.
With these exciting updates, our Google Structured Data extension becomes an even more powerful tool in your SEO arsenal. Empower your Joomla site with structured data that enhances visibility, search engine rankings, and overall user experience.
Advanced Custom Fields 2.7 - New Video Field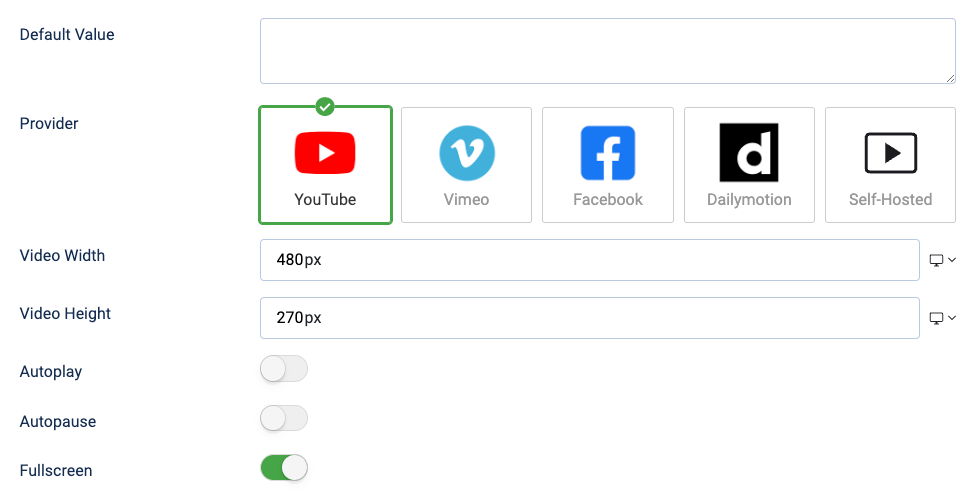 We are thrilled to announce the release of Advanced Custom Fields Version 2.7, featuring our most significant update yet - the new and powerful Video Field! In response to valuable feedback from our amazing community, we have reimagined and consolidated our video provider fields to bring you an all-in-one solution that simplifies maintenance, enhances user experience, and sets the stage for future innovations.
Say Goodbye to Duplicate Codebase: Gone are the days of managing separate codebases for each video provider field. With our new Video Field, we have unified all the functionalities under one roof, making it easier for our team to maintain, optimize, and ensure a seamless user experience.
Facilitating Future Feature Updates: We are committed to staying at the cutting edge of innovation, and the new Video Field paves the way for exciting future feature updates. Rest assured that we will continuously enhance this field with more capabilities to meet your evolving needs.
Simplified Support for Additional Providers: Our all-in-one approach means integrating support for additional video providers will be smoother and quicker. We have already included support for popular providers like YouTube, Vimeo, DailyMotion, Facebook Video, and even Self-Hosted Videos, giving you unmatched flexibility and convenience.
Streamlined User Experience: We understand the importance of delivering an intuitive and delightful user experience. With the new Video Field, managing videos on your website has always been challenging. Whether a developer or content creator, you'll find our updated interface highly intuitive and user-friendly.
Seamless Provider Switching: Tired of dealing with multiple fields for different video providers? We've got you covered! Our new Video Field allows you to switch between providers effortlessly without hassle. Enjoy the convenience of a unified experience, saving you time and effort.
Exciting New Features
Lazy Loading: We care about your website's performance and have introduced lazy loading for videos. This feature ensures that videos are loaded only when they come into the viewport, significantly improving page load times and optimizing user experience.
Video Cover Image: Enhance your user's experience by setting a captivating cover image for your videos. The cover image will be displayed initially, and the video will load when the visitor clicks. This smart feature improves user experience and boosts page load times.
Auto Pause: We understand the importance of giving your users control. Our new Auto Pause feature automatically stops videos from playing when they are out of the viewport. This empowers your visitors to manage their video-watching experience seamlessly.
We're incredibly excited about this release and believe the new Video Field will revolutionize how you handle videos on your Joomla site. Whether you're a content creator, designer, or developer, ACF Version 2.7 is designed to make your life easier and your website more engaging.
In case you missed it, we followed the same approach with our map custom fields and introduced an all-in-one Joomla Map Custom Field in May.
Summer Sale: Get 30% Off on All Joomla Extensions
We're thrilled to kick off the summer with exciting news for all our valued Joomla enthusiasts! As part of our commitment to enhancing your website's performance and functionality, we are delighted to announce our Summer Sale, offering an incredible 30% discount on all our Joomla extensions, including the highly sought-after Bundle plan. This exclusive offer is valid until the end of August, so take advantage of this fantastic opportunity to supercharge your Joomla experience!
To avail of the discount during checkout, use the coupon code SUMMER2023 to apply the 30% discount to your purchase.
Take advantage of this golden opportunity to take your Joomla website to new heights with our top-notch extensions at an unbeatable price. Upgrade your site's functionality, enhance user experience, and boost performance without breaking the bank!