Welcome back to our monthly update on Joomla extensions! We're thrilled to have you here, and we hope you've been enjoying our previous updates. For a recap of our previous issues, check out February and March. This edition has some exciting new features and additions to share. Let's dive in!
TABLE OF CONTENTS
New Form Templates Library
We're excited to announce the release of the latest version of Convert Forms, the Joomla form builder that simplifies creating forms for your website. With the release of v4.1.0, we're proud to introduce the redesigned form templates library, which offers a wide variety of templates to choose from, making it easier to create the perfect form for your needs without coding or design skills.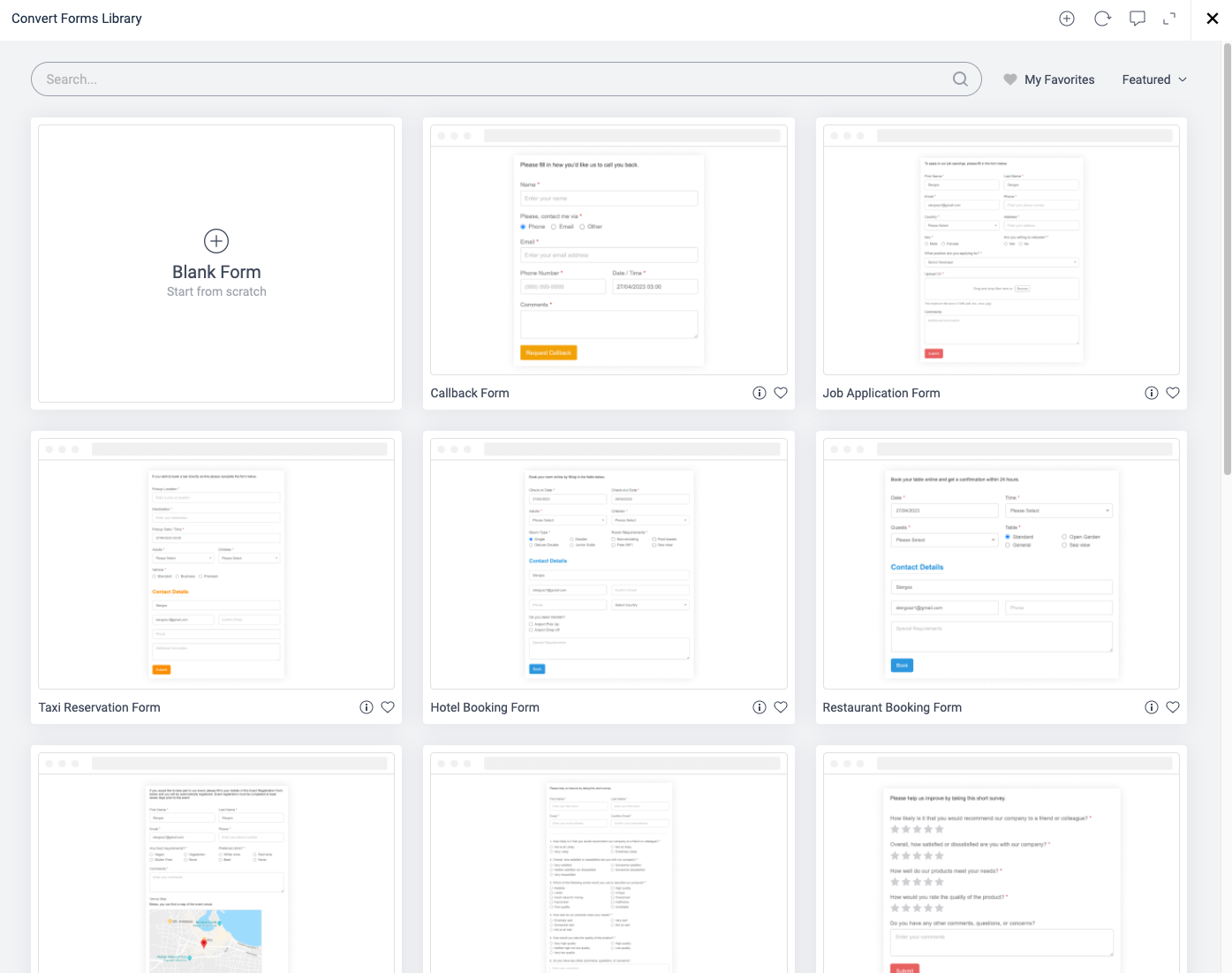 Redesigned Form Library
The redesigned library offers several new features that make finding the right template for your needs easier. With template filters and search, you can quickly find the type of form you need, whether it's a contact form, job application form, or customer satisfaction survey. The live preview feature lets you see exactly what the form will look like before you choose a template, giving you the confidence to know that you're choosing the right one.
In addition to these features, the new library allows you to add templates to your favorites list for easy access later. You can also view compatibility information.
New Form Templates
The redesigned library comes with 15 pixel-perfect form templates that are designed to meet various needs. Whether you're looking to create a hotel booking form, a support ticket form, or a newsletter signup form, there's a perfect template for your needs.
Here are the 15 templates that come with the new version of Convert Forms:
Contact Forms
Newsletter Signup Forms
Hotel Booking Form
Event Registration Form
Callback Forms
Job Application Form
Taxi Reservation Form
Restaurant Booking Form
Customer Satisfaction Survey
Quote Form
Support Ticket Form
Feedback Form
We're constantly working to improve Convert Forms, so we've made it our goal to maintain our position as the best form builder in the Joomla market. We'll continue adding more templates to our library in the future, so stay tuned for even more options.
FAQ Accordion Custom Field
Advanced Custom Fields 2.5.0 is out, and we are excited to announce our latest addition to our custom fields collection, the FAQ Field! This new field will help users create beautiful and functional auto-collapse FAQ accordions in Joomla via custom fields.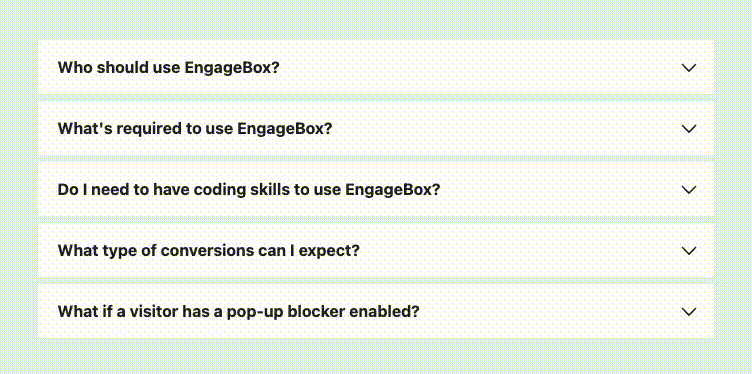 If you're wondering why you should use an FAQ field, the answer is simple: FAQs are an effective way to provide visitors with quick and easy answers to their questions, and they can help reduce the number of support requests you receive. With the new FAQ Field, you can create a visually appealing auto-collapse FAQ section to help your clients understand your business better.
Let's take a closer look at the key features of the FAQ Field:
Choose from 4 layouts presets
Display questions in accordion or grid format
Set toggle icon position to left or right
Choose from 4 toggle icons
Split questions into columns
Set the first question opened on the page load
Add a separator line between questions
Automatically generate structured data for SEO
Customize background color, padding, and font size
Supports HTML in text
No jQuery dependency
In short, the FAQ Field provides a range of customization options to help you create an expandable FAQ section that matches your website's style and meets your visitors' needs. It's lightweight, efficient, and fully compatible with the latest Joomla 4 and YooTheme Pro versions.
Person and Book Schema Types
We're excited to announce two new schema types in our Google Structured Data extension: the Person and Book schema types. With these additions, you can easily create structured data for people and books, making it easier for search engines to understand the content, establish credibility and expertise, and improve visibility and user engagement in Google search results.
Person Schema
The Person Schema is a new schema type we are introducing to our schema-type collections in Google Structured Data 5.3.0. This schema type enables you to create structured data for a person that includes over ten attributes, providing search engines with valuable information about an individual's background, education, awards, and links to other resources.
Establishing authorship and entity behind the content is essential for improving search engine rankings and gaining trust from your audience. However, it can be challenging for search engines to determine the unique identity of an author, especially if their name is common. The Person Schema provides structured data that includes detailed information about the author, making it easier for search engines to establish credibility and expertise.
With the new Person Schema feature, you can save time and avoid errors in creating accurate and well-formatted structured data for a person. This new addition will enhance your experience with our structured data component and help you improve your online presence.
Book Schema
In addition to the Person Schema, we are also introducing support for the Book Schema type. This schema type provides detailed information about your books, such as the title, author, publication date, and cover image, making it easier for search engines to understand and display your content in search results.
Providing detailed information about your books can make them stand out in Google search results with rich snippets displaying additional information like ratings or reviews. This leads to improved visibility and user engagement. Furthermore, implementing structured data future-proofs your Joomla website for any updates to Google's algorithms or changes in search behavior.
Implementing the Book Schema type in our Google Structured Data extension provides several benefits, including improved visibility and user engagement in Google search results. With this new addition, you can easily create structured data for your books, making it easier for search engines to understand and display your content.
External Link Popup Templates
Finally, we are excited to announce the release of EngageBox v5.2.4, which features an array of new features, including 10+ templates for creating a leaving notice popup for external links.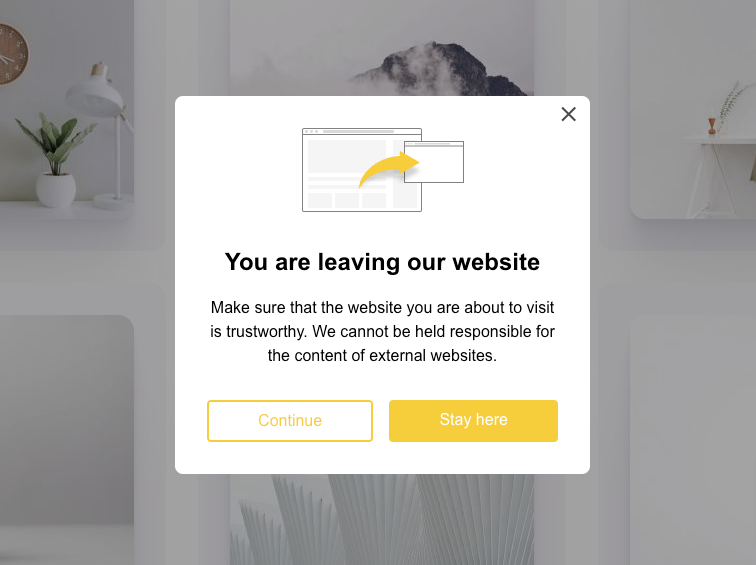 An External Link Popup is a small window on your website that appears when a user clicks on a link that leads them away from your site. This popup allows users to continue to the external link or stay on your site.
This kind of popup can enhance the user experience on your website, decrease the bounce rate, increase engagement, and improve website security. With the latest update to EngageBox, creating an external leaving notice popup has never been easier. Our 10+ templates are fully customizable, enabling you to create a popup that matches your website's design and style.
What's Next
We wanted to share our latest product development updates for the upcoming month. At our core, we're committed to ensuring that our products meet your needs and expectations and always strive to improve them.
We're excited to announce that we'll introduce two new integrations for Convert Forms in the coming month: Zoho CRM and Joomla Articles Integration. With the Joomla Articles Integration, you can create Joomla articles with Convert Forms, making managing your content and data easier than ever. These integrations will help you streamline your workflows and improve productivity.
We understand that not everyone has the budget to invest in premium Joomla extensions; In addition, we know that popups are a powerful way to engage with your customers and drive conversions, and that's why we're pleased to announce that we plan to offer a free version of our popup builder EngageBox. While this version will have limited features, it will still allow you to create stunning popups that capture your visitors' attention and help you achieve your marketing goals.
We're always looking for ways to make Advanced Custom Fields even more useful and user-friendly, and we're excited to introduce a new all-in-one map field that will integrate with Google Maps, OpenStreetMap, and Bing Maps. This new feature will enable you to add location-based data to your custom fields, making managing and displaying geographical information on your site easier.
We hope these updates demonstrate our commitment to continually improving our products and providing the tools you need to succeed. As always, we welcome your feedback and suggestions and look forward to hearing from you.
Thank you for your continued support.