Building websites on Joomla is fun and easy. Yet, many times designers and developers find themselves troubled with challenging expectations.
Then they seek help, and if you're in the same boat, then this blog post will help you get rid of that problem. We will look at some of the best Joomla resources available online, where we can find a range of helpful resources.
That way, whenever you need assistance with your Joomla site, you know where to go. So without further ado, let's get started!
Best Resources to learn Joomla Online
The following resources are the result of dedicated work by their owners to help you provide the best solutions. They're not in any particular ranking order. So, check them out per your needs and decide which one can help you the most.
Joomla! Docs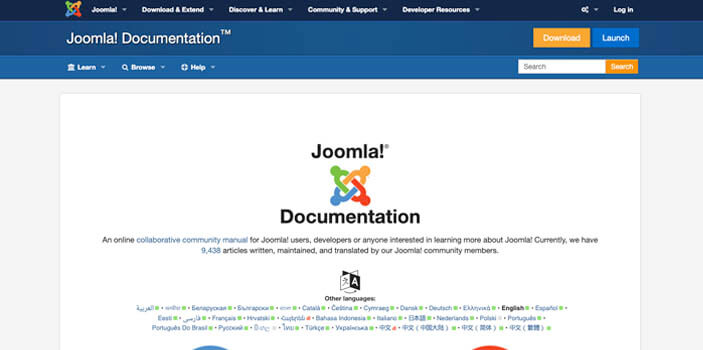 Joomla's official documentation site is the first thing to check out. It is maintained by thousands of community members and has over 9,000 articles to help you get the most out of Joomla.
From installing Joomla to configuring it according to your requirements, you can find articles of any kind. Moreover, the available articles are translated into multiple languages, so if English is hard on you, you can extract the information on your own.
Joomla! YouTube Channel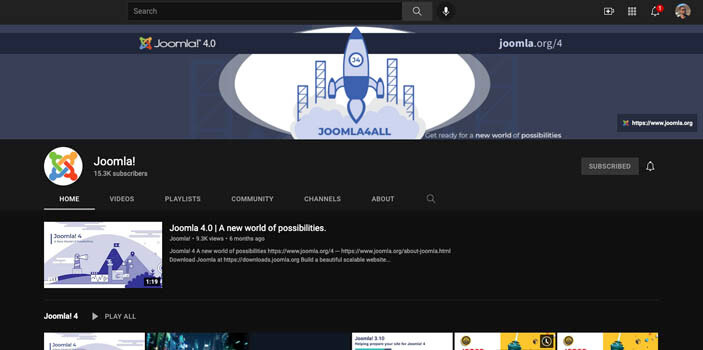 If you're interested in learning and finding solutions for your Joomla website in video format, then this YouTube channel is for you. It's the official channel from Joomla! with more than 15,000 subscribers. 
If you're active on YouTube and don't want to miss something new about Joomla! you should consider subscribing to this channel. Besides news, here you can find videos that help you learn how to update your site, publishing workflow, and more.
Joomla! Magazine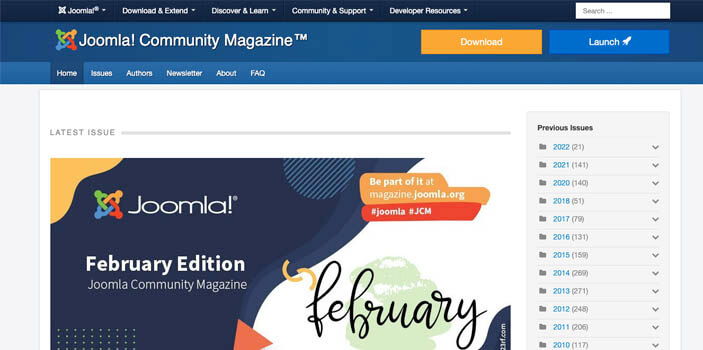 The Joomla! Community Magazine site is another official resource offered by Joomla! where you can learn about many new and current things that are undergoing the Joomla market.
From the latest releases to understanding custom fields, you can find many helpful articles to improve your Joomla knowledge.
Each month Joomla publishes a new issue that covers users' views, their journey; what's new or what's coming in Joomla, how to utilize different CMS features, and take your Joomla experience to a new level.
Joomla! Forum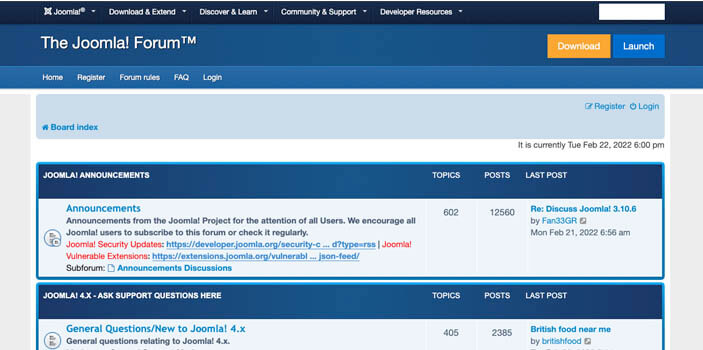 The Joomla! Forum is the place where you can become a part of the discussions Joomla users do every day. They either share their experience or help other fellow users to get the best out of the Joomla CMS.
Here, you can read general announcements; find topics that might help you optimize your Joomla website the most. Or ask for help by submitting your question to the public and getting it resolved by hundreds of experienced fellow Joomla users.
For exchanging Joomla knowledge and becoming better at it, it's the best place to go online.
JoomlaBeginner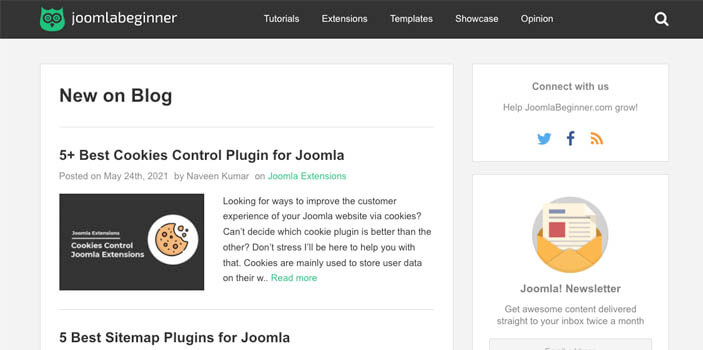 In 2017 we announced that we're launching a new website to help beginners learn more about Joomla in the easiest way. And with that announcement, we brought JoomlaBeginner.com to life.
A free Joomla online resource dedicated to providing the best solutions in the simplest form. From tutorials to opinions to showcase different Joomla templates, JoomlaBeginner comprises many topics to utilize your Joomla site in a new and better way.
Our mission is to spread the fact that Joomla is the right tool when it comes to free site building, which we've clearly expressed through many articles we've published in the past years.
At JoomlaBeginner, you'll find that it's not only easy to build websites of any kind on Joomla, but it's fun and exciting, too.
So, if you want to learn more about Joomla or want to discover tools like extensions, templates, and other free resources, then you should visit JoomlaBeginner every time you need something old, new, or special for your Joomla website.
OSTraining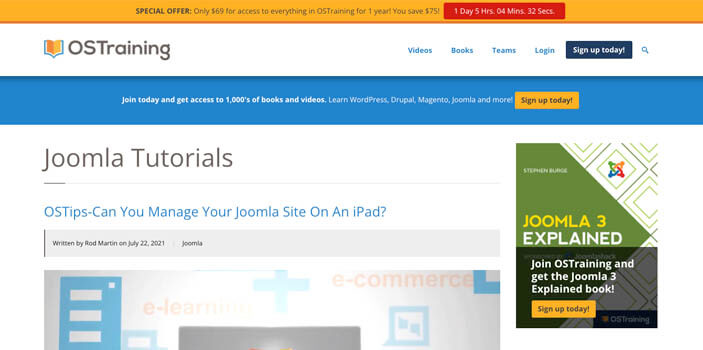 OSTraining opens numerous ways for you to learn more about Joomla. It provides you with blogs, videos, and books. So, however best you like to improve your Joomla knowledge, you can go for that.
It publishes topics like how to manage your Joomla site on an iPad, changing the Joomla default editor, removing index.php and IDs from URLs, and more. A pretty amazing online Joomla resource to learn various topics.
OSTraining doesn't offer all of its resources for free except blogs. If you're interested in learning other than the blog posts, you can sign up for their course for $69 a year.
Udemy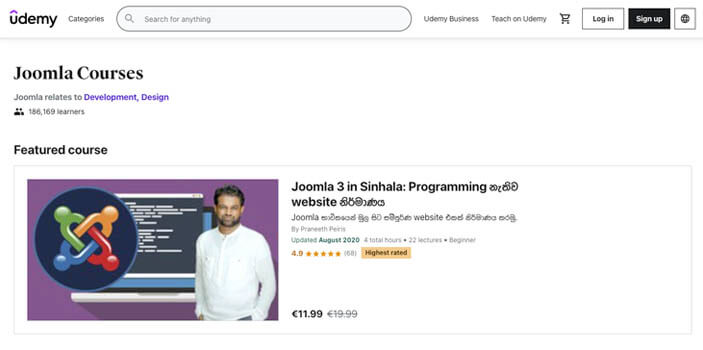 If free resources aren't motivating you to improve your Joomla skills, you can try the paid ones. And for that, what's better than Udemy?
Here, you can purchase Joomla courses from different experienced teachers. The prices aren't too high, so you can have a better learning experience at a reasonable price.
In addition, the courses cover a lot about Joomla; whether you need to learn something basic or advanced, you can get anything you want.
Paid courses start from $12.99.
LinkedIn Learning (Lynda)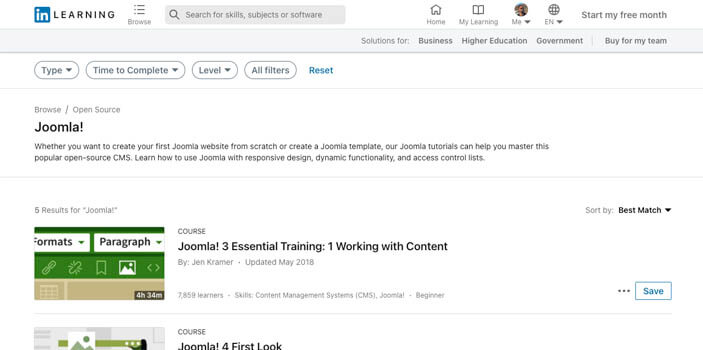 Another excellent paid Joomla learning resource you can utilize is LinkedIn Learning, formerly Lynda.com. However, unlike Udemy, the courses available here aren't created by different teachers.
So, if you prefer to learn from a single teacher, LinkedIn Learning for Joomla is the perfect way to start.
Also, different employers give more credibility to LinkedIn's certificates. Thus, if you're job hunting for Joomla, you should go for LinkedIn Joomla courses.
Course available at $34.99.
Build A Joomla Website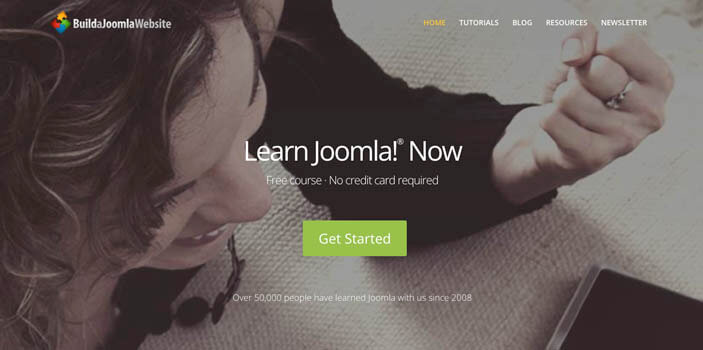 Another great resource to learn Joomla for free and effectively. Since 2008, over 50,000 people have watched their video tutorials to learn how to build beautiful websites with Joomla! They've training suits for different requirements like creating a new website, making changes to an existing website, or becoming a pro user of Joomla.
With BuildaJoomlaWebsite, you'd get 2 hours of free learning material consisting of 16 lectures. In addition, you can opt for their premium package at the price of $29/month for 4 months.
Basic Joomla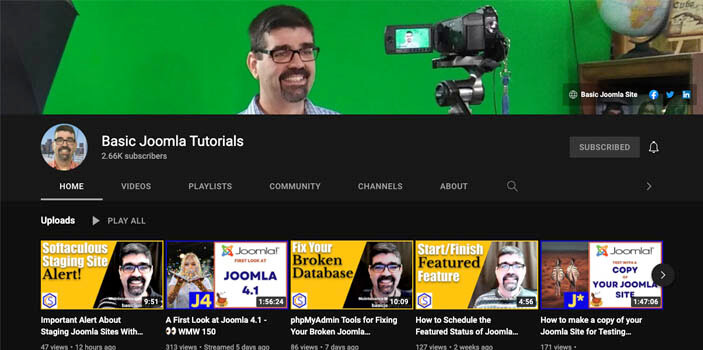 If video tutorials are those that keep you going, then Basic Joomla is what you need to visit. Tim Davis, the guy behind this resource, is a great tutor with diverse knowledge on Joomla CMS and a big fan of our Joomla contact form, Convert Forms.
His Basic Joomla Tutorials' YouTube channel has videos covering many topics. For instance, duplicating Joomla sites, creating custom 404 error pages, making phone numbers a hotlink, and more. He publishes tutorials on his site also, including transcripts. So, if you're prone to reading, you can learn Joomla in that way as well under his methods.
In addition to the tutorials, he also offers Joomla giveaways from time to time. By entering those, you can win amazing Joomla tools to enhance your website's functionality.
Therefore, subscribing to his site or channel is a win-win situation for learning and getting powerful tools without spending anything.
Learn Joomla Fast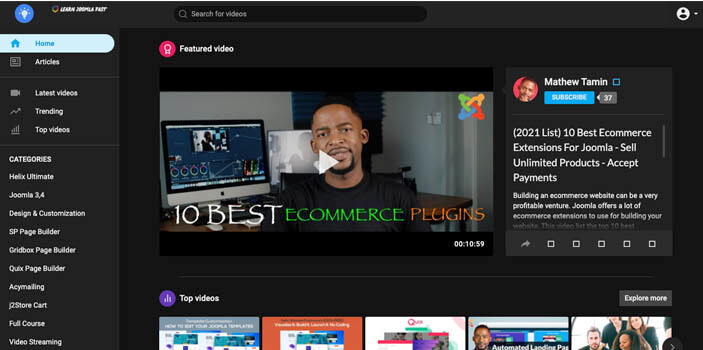 Learn Joomla Fast is another great resource for learning Joomla through videos. It's a YouTube Channel maintained by Mathew Tamin. 
This YouTube resource includes tutorials for both Joomla 3 and the latest Joomla 4. So, whichever version you're using, here you can find videos to improve both. The channel also features tutorials from other Joomla users sharing their tips & tricks, which you can utilize for your purpose.
The site covers topics on Joomla CMS in a very good manner, and you'd probably find solutions to your problems with ease. Here, you can find videos for absolute beginners like how to manage users and modules to more advanced topics like how to create a hotel booking website with Joomla.
Joomla StackExchange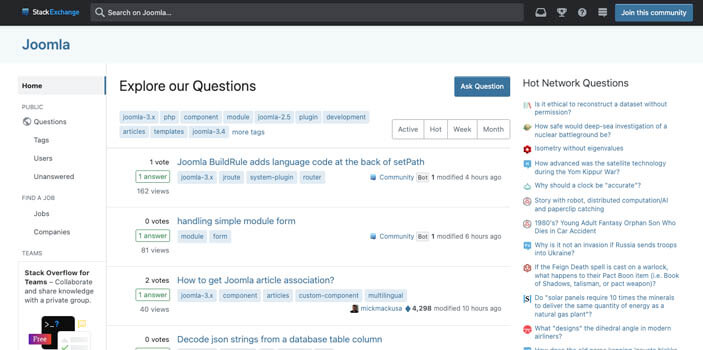 As I mentioned in the introduction, there's always a tab that remains open in the browser window for web developers. Mostly it's Stack Overflow, and if it's what helps you learn technical, then for your Joomla knowledge, there's one for that as well.
Joomla Stack Exchange can help you find solutions and resources to improve your skills. Or you can ask fellow Joomla users to resolve any of your issues. A great online resource to learn, unlearn and relearn Joomla for free.
Astrid Guenther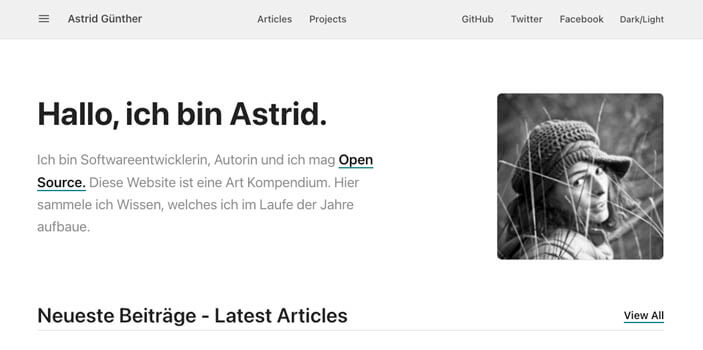 Astrid Guenther is a Joomla developer who's been publishing straightforward resources since 2018.
She's excellent at discussing Joomla topics, and from her Joomla extension development guide, you can find out how good she is. The guide includes tutorials for any kind of extensions such as components, plugins, modules, and templates.
Her site allows you to find resources to improve your Joomla development skills, resolve issues and utilize Joomla at its best.
So, if you're planning to learn how to code a Joomla extension on your own, it's a must-visit site.
Chris Wilcox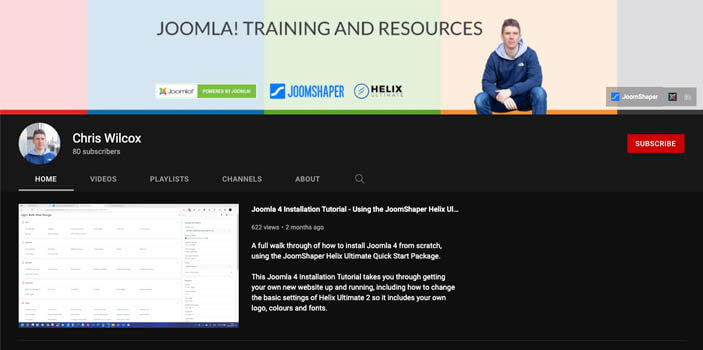 Many Joomla users find video tutorials helpful in learning and improving their skills. And with Chris Wilcox's YouTube channel, that becomes easier.
He's an active YouTube Joomla tutorial maker, who provides helpful Joomla videos if you subscribe. By following the instructions, you'll be able to learn more about Joomla speed optimizations, utilizing core functionalities, and many more.
Web-eau.net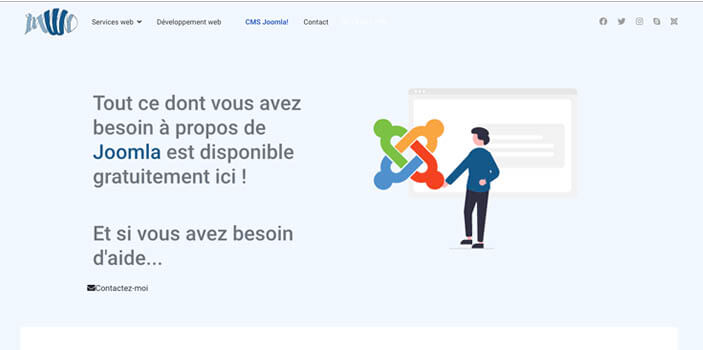 Web-eau.net is another excellent resource site to learn more about Joomla & its ecosystem. Here, you'll get free training courses to learn how to create and manage a Joomla website easily. Some of the topics it includes are installing Joomla on a local server, configuring users, making advanced template modifications, setting up a multilingual site, etc.
It's run by Joomla evangelist Daniel, a pretty known webmaster in the community with great knowledge of HTML, CSS, SEO, and more.
Although Web-eau.net has a number of useful topics, it is only available in French. For that reason, it might be best for you to get your Google Translate ready!
Conclusion
So, that's our look at the free & paid Joomla online resources you can explore to learn more about our beloved Joomla. I hope this blog post helped you find a suitable platform to sharpen your skills and knowledge. If you have any thoughts or doubts, please let me know in the comments.