HikaShop and VirtueMart Integrations
These two components have been the major players in the Joomla e-commerce game for years! It was to be expected that Google Structured Data Markup would fully support them!
In fact, not only it supports them, but on top of it you do not have to do anything manually for each of your products! Everything is generated 100% from your product's existing data!
Recipes and Courses Rich Snippets
For this feature packed release we added the new Recipes and Courses Rich Snippets! We noticed by your tremendous feedback that they are increasing in popularity and now they are here for all our dear Chefs and Teachers!
Custom Code is now FREE!
Our FREE version has been enriched by the addition of the Custom Code capability for the site-wide snippets! With this addition, the developers among you can effectively add any kind of Rich Snippet which would be suitable for a site-wide use!
Important Note for K2 users
Attention our K2 users! Since we reworked our integration system from the top down, you will have to activate the K2 integration through the plugin's new integrations tab! Check the screenshot below to understand where that option is.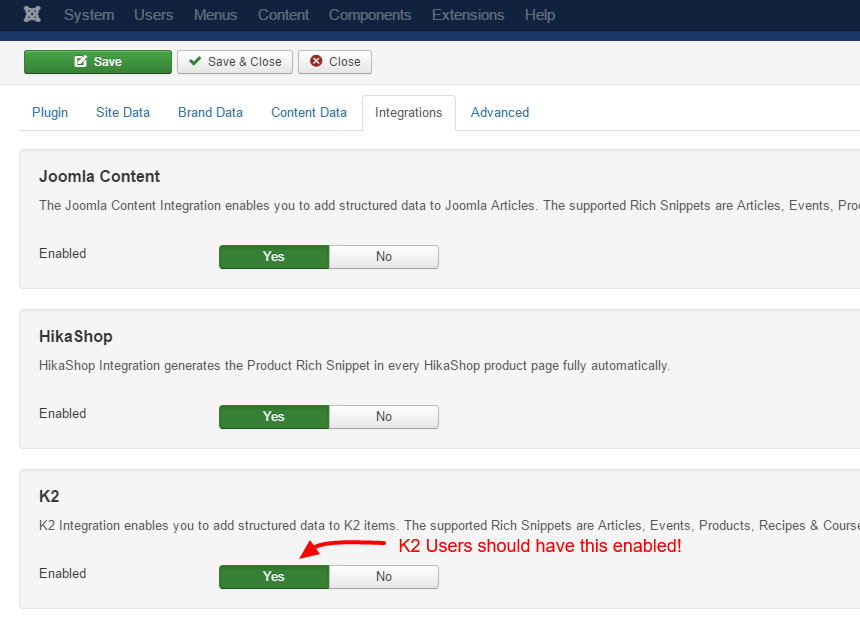 Changelog
Adds HikaShop Integration
Adds VirtueMart Integration
Adds support for the Recipes and Courses Rich Snippets
Fixes issue with URLs not using https:// on SSL site
Fixes issue with the plugin installation on some systems with cache enabled
Offers the Custom Code option (Advanced Tab) for Free
Complete plugin refactoring