Convert Forms
A Joomla Form Builder that's Easy and Powerful
Version:

2.3.1

Date Updated:

Fri, 17 May 2019

Compatibility:

J3.8, J3.9, J4.0

Includes:

Plugin, Component, Module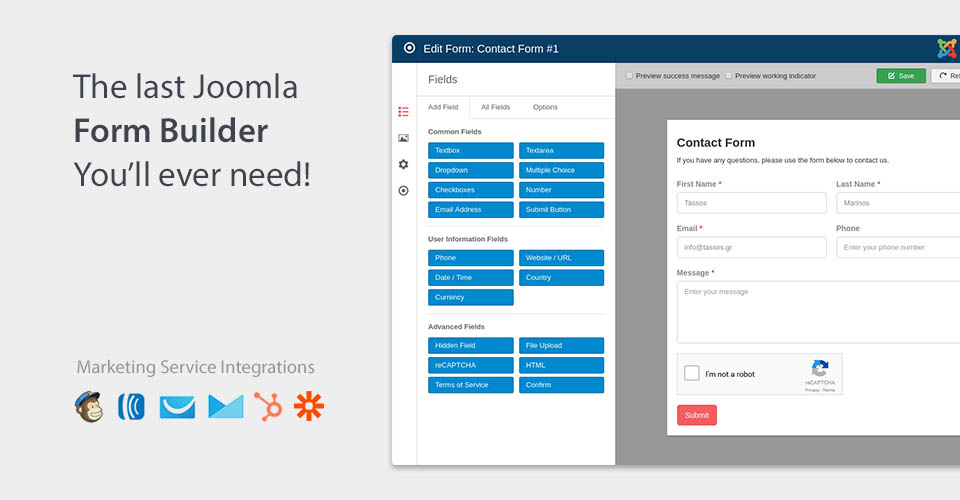 The Most Beginner Friendly Joomla! Form Builder extension in the Market
Our form designer can help you create perfect converting contact forms, newsletter opt-in forms and any kind of forms so you can collect the data and registrations in your Joomla! website.

Form Builder
Our builder allows you to create beautiful and optimized forms with no knowledge of coding.

The Magic of AJAX
The submission takes place in the background. No reloads. User never leaves your site.

Submissions Management
View and manage all form submissions in one place to streamline your workflow.

Import and Export Forms
Easily import and export forms from one site to another.

Highly Customizable
Customize everything. Background, color, border, padding, font, fields and more.

Easy to Embed
Easily embed your forms in articles, pages, sidebar widgets or footer using a module or a shortcode.

Responsive Mobile Friendly
Convert Forms is 100% responsive meaning it works on mobile, tablets & desktop.
Start Building Smarter Joomla Forms
Backend Screenshots
Have a quick look at the backend user interface
Awesome Support
Cross Browser Compatible. Speed Optimized. The Best Support.

Cross-Browser Compatible
Full support for all the latest versions of desktop and mobile browser.

Speed Optimized
Built with performance in mind. It will never slow down your site.

Instant Updates
Updating Convert Forms is a breeze: one click and you're done.

The Best Support
Our support team is here to help you with response time within 12 hours.

Translation Ready
Translation-ready, for easy conversion to any language.

Open Source
Fully open source. The code is NOT encrypted in any way.
Easy Integration with Email Marketing Providers
Convert Forms has direct API integrations for the most popular email services.
The list of integrations is increased by each release.

Start Building Smarter Joomla Forms