We're really excited to announce the release of EngageBox 5.2. This new release brings exciting new features, including a library of over 80 beautiful popup templates, a Countdown Timer widget for creating urgency and scarcity, and 5 new display conditions for e-commerce integrations with VirtueMart and HikaShop.
With these updates, EngageBox continues to be the go-to solution for boosting your website's conversions and engagement.
Since the first launch of EngageBox, we have been committed to providing our users with the best Joomla popup plugin features available. Our goal is to make it easy for anyone to create high-converting Joomla popups. With this new release, we've taken one step closer to achieving our goal.
What's New in 5.2
EngageBox has always been arguably the best popup plugin in the Joomla space. At the time of writing this, it has 470+ reviews while maintaining a 5-star rating on JED.
In earlier versions of the extension, you could find some of the most comprehensive conversion-boosting tools. From smart popup triggers to powerful and precise user targeting, and all-around mobile-friendliness, our popup extension offered all the key features you need for a seamless and rewarding user experience.
With this new release, beyond the new popup library, we have also shipped some other cool features.
Ready to see some of them in action? Let's dive in!
Brand New Popup Template Library
One of the quickest ways to create a Joomla pop-up is to use a ready-made template. When it comes to design templates, it's always important to have both variety and flexibility. In this new version of EngageBox, we're happy to reveal a new template library that offers both.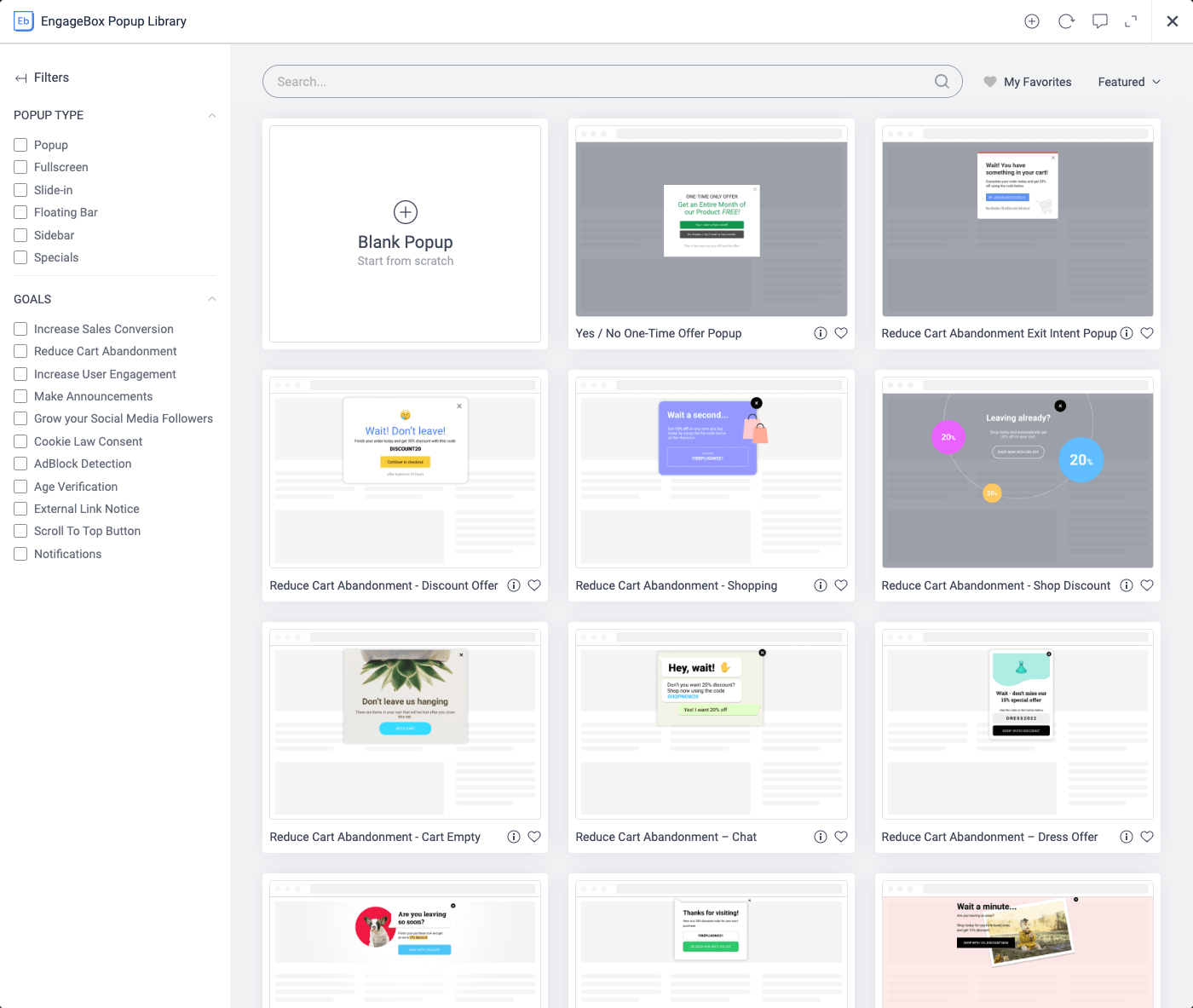 We've re-engineered a much-improved user interface (UI) that will help you get your popups up and running in no time. You'll also be able to preview your designs in real time before publishing them.
The older version of EngageBox already included over 30 popup templates that eliminated the need to build your popup from scratch. In this update, we've made everything even better by adding more than 80 new templates.
Worried about having to sift through over 80 popup templates? With these 4 features, you'll be able to navigate the template library faster and easier.
Template filters and search: You can filter the entire library based on the popup type, marketing solution, and goal. You get to pick from 6 popup types which include lightbox popups, floating bars, fullscreen, sidebars, and slide-in popups. Marketing solutions can be sales, engagement, etc, while goals can be social share, special offer promotion, adblock detection, etc. There's also a search bar at the top of the library where you can enter simple keywords.
Template live preview: Eager to see what a template looks like before adding it to your popup design? EngageBox allows you to preview it on the 3 common screen sizes: desktop, tablet, and mobile.
Add templates to favorites: You can add specific templates to the 'favorites' section. This makes it easy to use them in the future without having to search or use filters again.
Compatibility information: Before using any template, you can also confirm its compatibility with your Joomla version. Each template has an information tab where you can find such details.
Better still, we also intend to add new elegant popup designs to the template library every month. To get these new templates simply click the refresh icon on the right corner of the library's toolbar.
Bear in mind that you'll need to activate your license to be able to do this.
Note:
All popup templates are also published and available for preview on the
EngageBox Templates
page.
Display Conditions for VirtueMart and HikaShop
A year ago we introduced Display Conditions in EngageBox 5.1.0. Α new no-code interface that helps you control when and where your popup appears to your site's visitors with the help of 30+ advanced conditions including Date, Time, Device, Country, URL, IP, and more.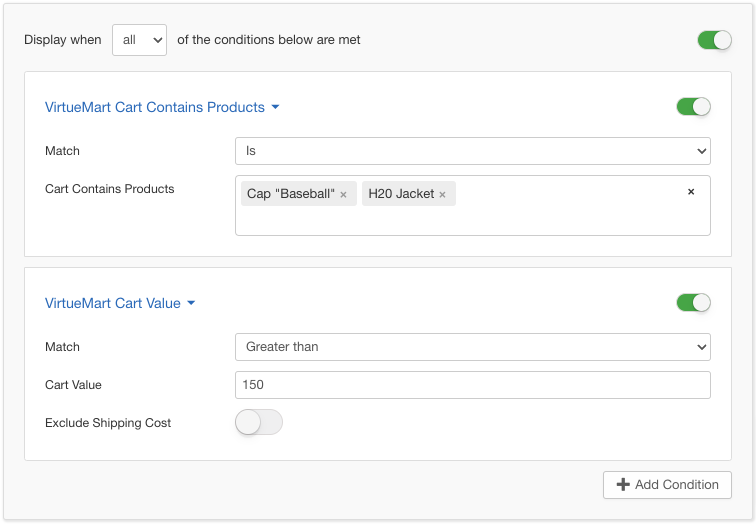 With this new release, we are focusing on the e-commerce industry. Our goal is to help Joomla-based shops get more control over their popup marketing efforts, increase conversions and drive more sales.
To do so, we are introducing 5 new conditions for VirtueMart and HikaShop e-commerce extensions:
Cart Contains Products: Target users who have added specific products to their cart.
Cart Contains X Products: Target users based on the total products in their cart.
Cart Value: Target users based on the total value of the cart.
Product: Target users who are browsing specific product pages.
Category: Target users who are browsing products from specific categories.
Are you missing a display condition for your favorite Joomla e-commerce extension? Let us know.
Countdown Timer Widget
Limited stock available. While supplies last. Last chance. You likely know and use these words in your marketing to create a sense of scarcity. When something is about to go away, it becomes more attractive. And to avoid missing out on an otherwise lost opportunity, we take action, often with little afterthought.
While scarcity and urgency are widely used in email marketing, they're still underused in website popups. The best way to leverage them on-site is to use countdown timers in your popups.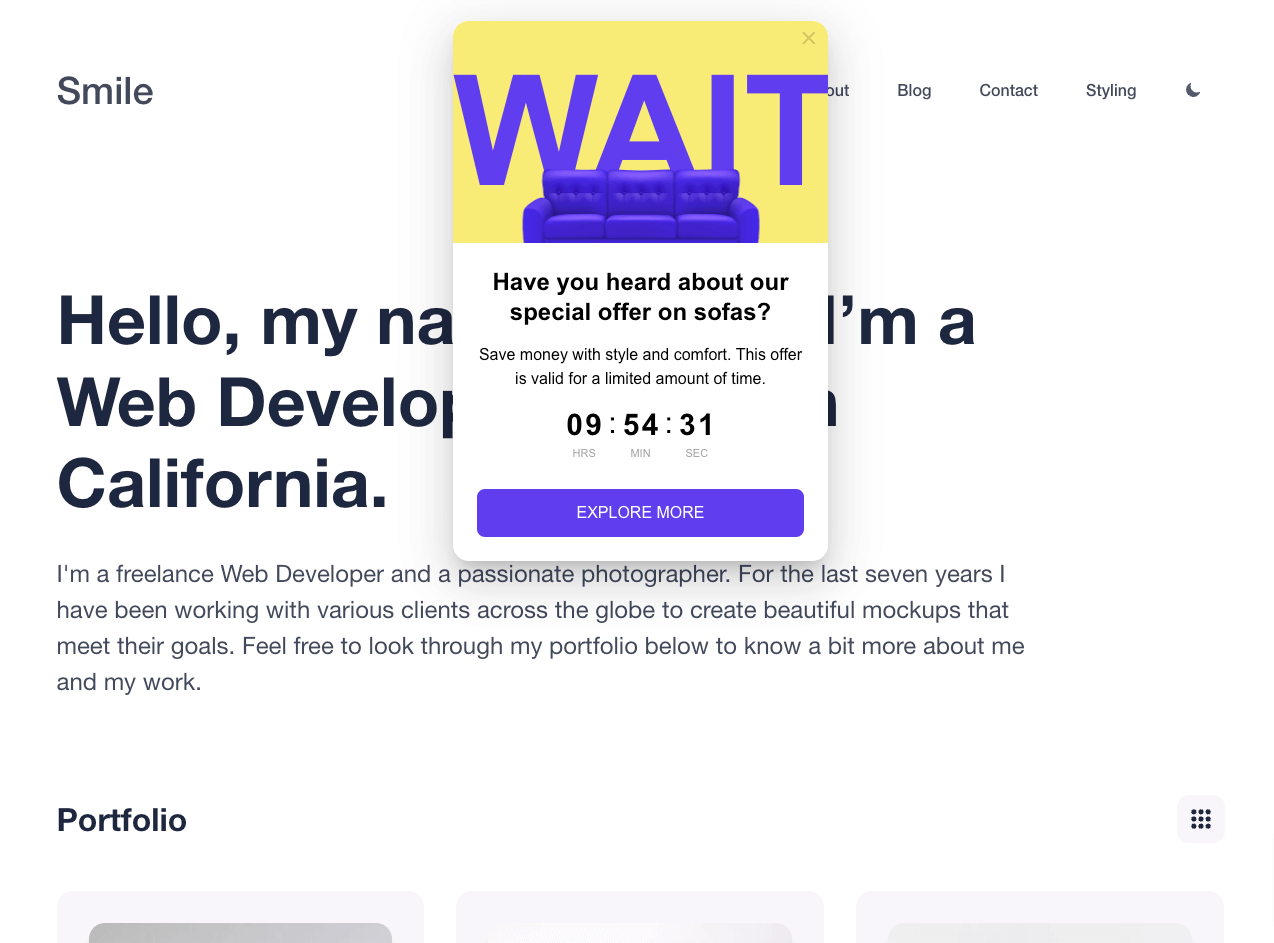 To help you boost your popup conversions, too, we've added a Countdown Timer widget to EngageBox.
Let's see what you can do with it:
Fixed Countdown Timer: The fixed timer option can be used to promote events or offers on a specific day. You can use it to announce upcoming events to your audience, like a Black Friday sale or a New Year's offer.
Evergreen Countdown Timer: With our Evergreen Countdown Timer option all visitors get the same time frame, regardless of when they enter the page. The reliable solution to create a feeling of scarcity, urgency, and exclusivity.
Actions When Timer Ends: Set what happens once the timer reaches zero. You can hide the timer, display a custom message, restart the timer or even redirect the user to a custom landing page.
To learn more details visit the How to Add a Countdown Timer in Your Popup guide.
Background Overlay Blur Effect
Are you looking to create a sense of focus and emphasis on the popup itself, drawing users' attention to the content of the popup?
Use a background overlay blur effect!
This release adds a new option to create a blurred background overlay popup. Now, in the Background Overlay section in the Design tab, you can find a new option called Blur that lets you set how blurry the content behind the popup will be.
Here's how a blurred background can help you:
Create a sense of focus and emphasis on the popup itself, drawing users' attention to the content of the popup.
Create a visually striking and modern aesthetic, making the popup more visually appealing and engaging.
Create a sense of separation and isolation, making the popup feel more like a separate entity from the rest of the page.
Create a sense of mystery and intrigue, encouraging users to interact with the popup and find out more.
Reduce distractions and background noise, allowing users to focus more easily on the content of the popup.
Auto-Pause for Video and Audio
Videos can skyrocket the engagement rates on your site, especially when they are displayed in a well-timed popup. And, if you've tried doing so by loading a self-hosted video with EngageBox, it's likely you've encountered the following bug:
The popup opens, the user interacts with the popup and the video starts playing. After a while, the user decides to close the popup but the video continues to play in the background.
Until now, to fix this annoying issue, you will have to use Javascript. Not that a user-friendly solution, right?
Starting with EngageBox 5.2 any video or audio elements found on the popup's content will now be auto-paused by default when the popup is about to close. This can help reduce distractions and improve focus and the overall user experience.
5.2 Changelog
Redesigned Popup Library and introduced 80+ brand new popup templates.
Added 13 Sales popup templates.
Added 15 Summer Sales popup templates.
Added 12 Age Verification popup templates.
Added 15 Reduce Card Abandonment popup templates.
Added 15 Cookie Law popup templates.
Added 5 AdBlock popup templates.
Added 5 display conditions for VirtueMart and HikaShop (Cart Contains Products, Cart Contains X Products, Cart Value, Product, Category).
Added an option for blurring the background overlay.
Implements the EngageBox Countdown Timer shortcode.
Fix: Do not trigger Content Plugins if the page has no popups on the page.
Fix: PHP "syntax error" thrown due to reserved word used when upgrading from 5.0.1 to a newer version.
Fix: On Joomla 4, a box may not be duplicated if its title exceeds 50 characters.
Fix: Display Conditions would not load under certain circumstances.
Video and audio embeds are now automatically paused after closing the popup.
Improves OnClick Trigger error handling.
The New Version Update notice will always appear now in the backend unless closed.
Added the Greek translation (el-GR)
What's Next
As a small software team of Joomla experts, we're consistently working hard to expand our product offerings and improve our existing products. This means you can always expect new and exciting updates to our already-powerful EngageBox popup extension.
The next update will include new popup templates as we promised earlier. Our ultimate goal has always been to offer you the best all-in-one Joomla popup solution at the best bargain possible. And we'll keep improving on that with every new release.
We hope this new update will enhance your Joomla marketing campaign workflow and boost your site's conversion significantly, If you have any questions or feature requests, kindly let us know in the comments section below.