What increases the authenticity of a contract carried out between two parties? It's the parties' consent given to each other in the form of a signature. But, what if you're going to do an online contract? How are you going to collect your clients' signatures?
Because if you prefer paperwork and trust your client to finish their side of the job - downloading, signing, and uploading - then it would take days. And perhaps, you might lose the contract as everyone needs a quick solution in today's fast-paced world.
Therefore, accepting digital signatures can save you time as well as simplify the whole process. You can add a digital signature field to your online contract form and let the client do their job right at the moment.
If you don't know how to do that on your Joomla! site, in this tutorial, I'll share the easy steps that would help you accept digital signatures effortlessly. And for that, I am going to use our modern and intuitive Joomla form builder, Convert Forms. So, you can get the best out of your Joomla forms when it comes to accepting digital signatures.
Why do you need Digital Signatures?
As I mentioned in the introduction, signatures increase the authenticity of a contract. An e-signature, like a hand-written signature, increases the authenticity of an online agreement.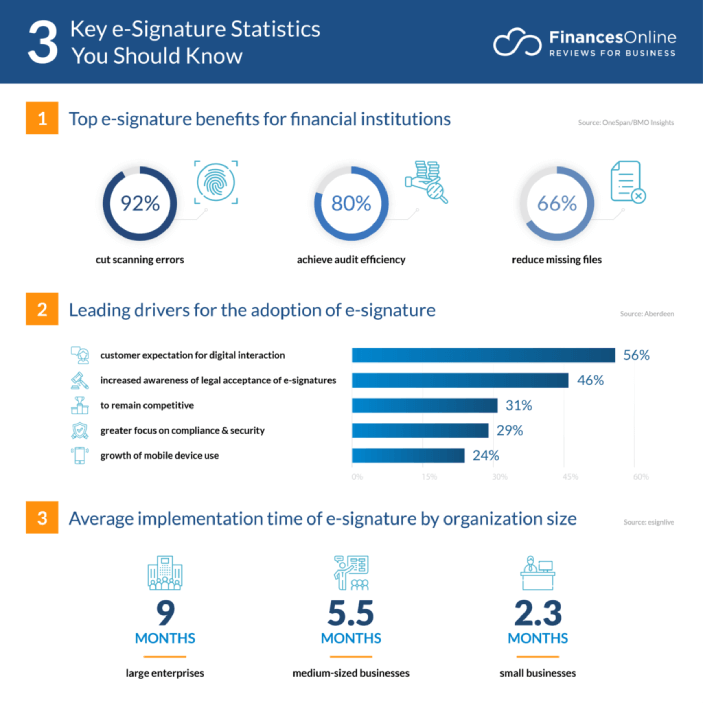 Whether you're publishing books online or undertaking clients' online marketing, digital signatures put you on solid ground.
If someone questions your authority in the future, you can showcase your legitimacy through digitally signed contracts. And that's not all; there are many benefits of accepting the digital signatures of your clients. For example,
You do not need to print and scan the document again and again while creating an online contract agreement form.
It reduces the paperwork headaches.
It's convenient for clients as well.
You're contributing to saving a tree(s). Accepting signatures online is Eco-Friendly; thus, you're reducing consumption and your carbon footprint.
Digital signings also help you close deals faster.
Real examples of using Digital Signatures
In general, there are multiple uses of e-signature; however, some of the popular and essential ones are,
Contracts
Application forms
Registration forms
Online petitions
Service agreements
Non-disclosure agreements
Incident reporting
And human resources forms
Likewise, I believe you might also need a digital signature on your Joomla forms for one of the above applications. Therefore, the below steps will guide you on how to do that effectively.
How to create Digital Signature Forms
To create your signature Joomla form, you need to install Convert Forms on your! Website. It's a free Joomla form builder; however, you'll need the premium version to include a signature field on the form.
The premium version of our extension provides you with multiple features in addition to the signature field. For example, it unlocks the ability to create conditional fields; enable PDF Form Submissions, Ratings, and more.
Once you're done installing it, follow the below steps.
Step 1: Create Your Signature Form
On your Joomla! Home Dashboard, go to Components → and choose Convert Forms.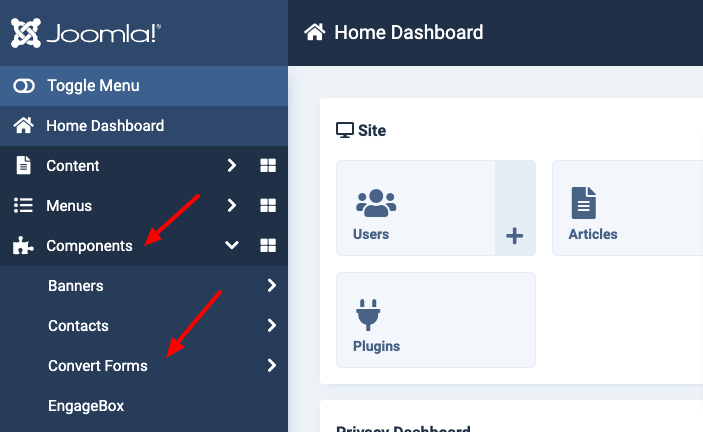 It will open the Convert Forms dashboard. Here, click New Form.
and then from the templates popup, choose Start from scratch.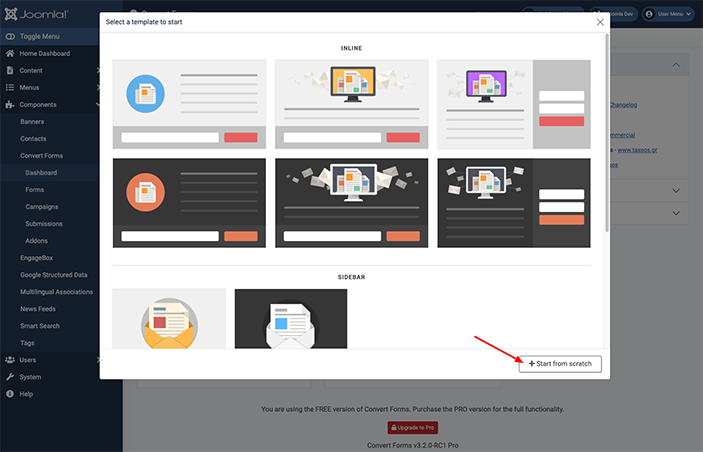 This will open the form builder with a default form containing name & email fields and a submit button.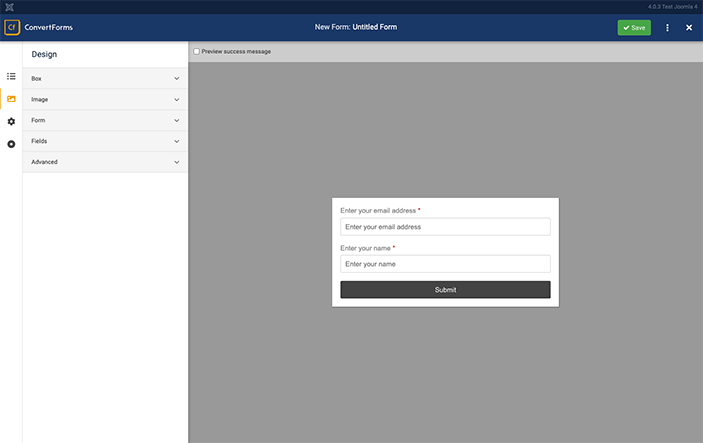 Now, to add your signature field, go to Add Field → Advanced Fields → and click on Signature. This will add the signature field to your contact form.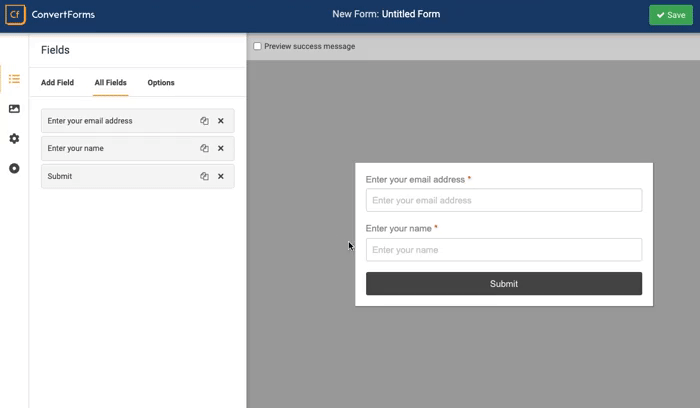 Step 2: Configure Your Form Settings
After adding the signature field to the form, configure it per your requirements. To do that, go to Options and apply changes as needed.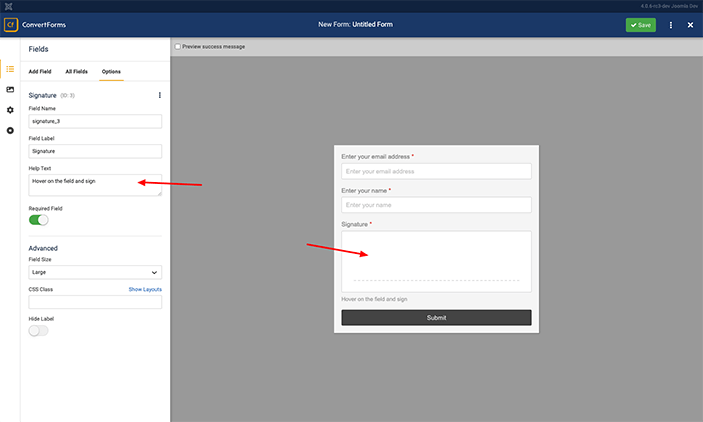 Once you've configured the field, make sure you configure the form settings as well. For instance, set the form's name and change its look using the Design menu.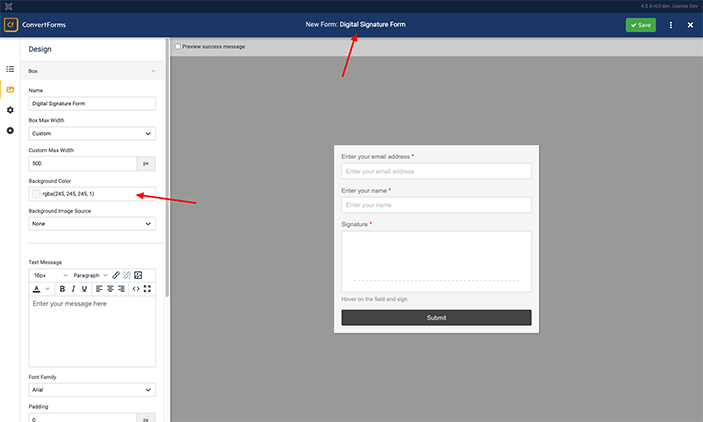 Utilize the Behavior menu to change form status, configure email notifications, enable conditional fields, and more.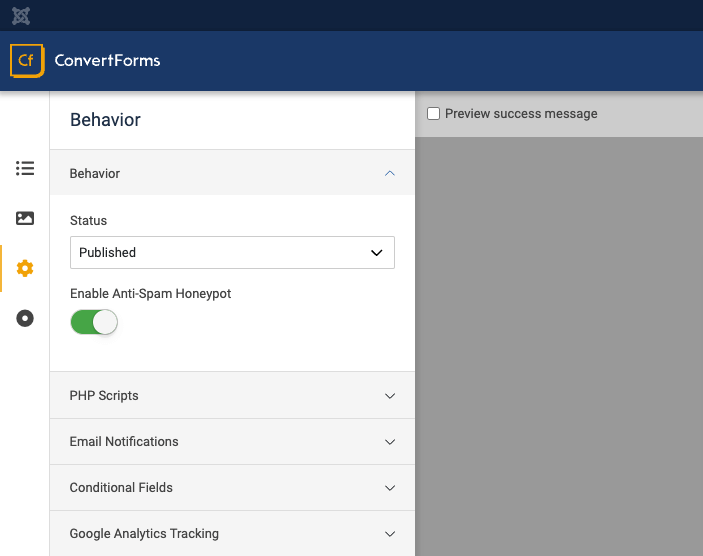 After configuring the form completely, click Save.
Step 3: Publish Your Form
Once your form is saved, close the form builder, and from the form library, copy its shortcode.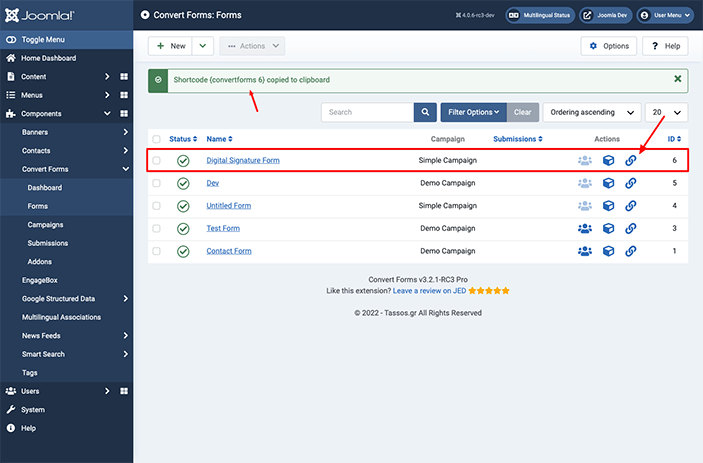 After copying the code, go to your article and paste it into the body.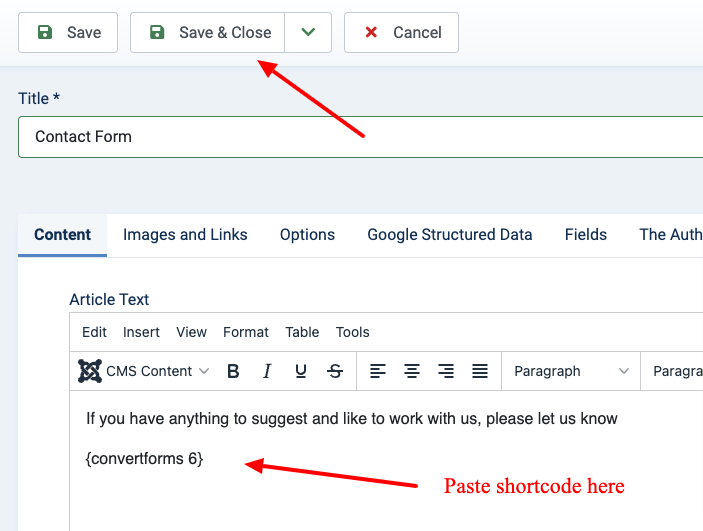 Then save the article, and your form will appear as the following.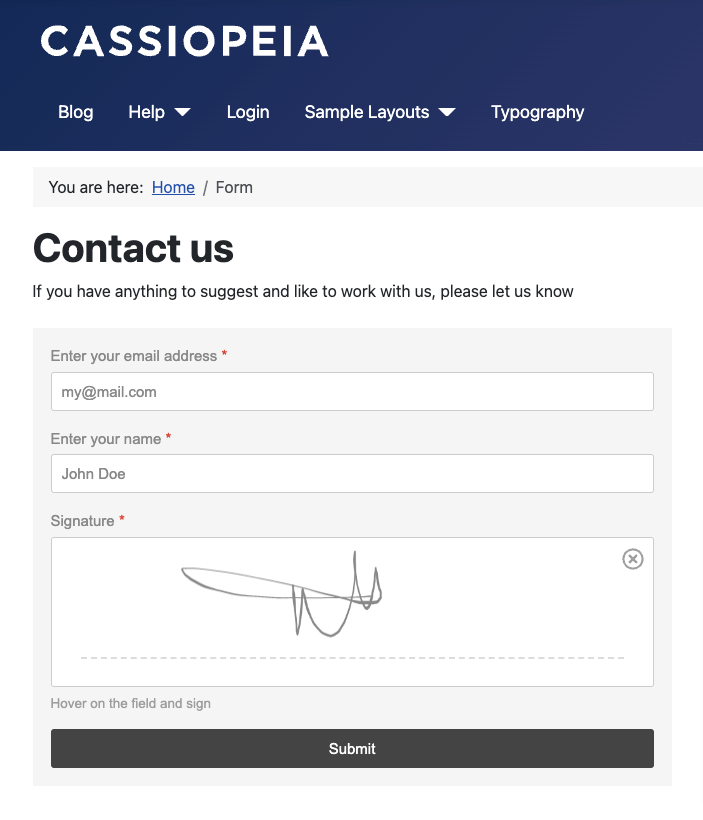 That's it; you've successfully created your digital signature Joomla form. Now, you can create contracts online with your clients by allowing them to sign documents on the spot.
Conclusion
By following the above steps, we learned how easy it is to accept digital signatures using Convert Forms. All you have to do is create a new form or edit an existing one. Then select the signature field, apply some customizations, and you're done.
Plus, it offers many high functional features that allow you to optimize a form to the fullest with or without a signature field. So, if you're going to create a Joomla form to accept digital signatures or any type of form, Convert Forms offers you the perfect tools to get your job done right.
And the best thing is that you can get it starting from €29 with a 30-day money-back guarantee.
So, try it as much as you can and let us know how you feel about it. Apart from this, I hope this blog post helped you understand why it's essential to accept digital signatures and the best way to do it.