EngageBox
Get the #1 popup builder extension in the Joomla market
The #1 popup extension in the market
Create beautiful popups that convert and drive more sales
Create smart popups, sticky bars, fullscreen messages and floating buttons. Convert your traffic into customers and subscribers.
268,940 downloads since 2014
The most popular popup extension in the Joomla! market
Here's why thousands of website owners love EngageBox, and you will too!
Templates Library
Ready to use, responsive and high customizable popup templates so you can start in just a few minutes.
Multiple Popup Types
Popups. Floating bars. Fullscreen overlays. Slide-ins, 2-step opt-ins, powerful conversion tools are at your fingertips.
Precision Targeting
Every visitor is different. Why treat them all the same? Use precision targeting to show relevant messages.
Smart Targeting
Detect visitors' behavior and use smart triggers to display the right popup to the right person at the right time.
Highly Customizable
Total control of the appearance. Colors, Size, Background, Border, Paddings, Overlay and many more.
Mobile Friendly
The web is not just desktop anymore. That's why EngageBox is 100% mobile optimized and responsive.
60+ Animations Effects
Play the role of a director with eye-catching 60+ animation effects.
Position Everywhere
Configure your popup to appear from any corner of your website.
Popup Types
Choose the perfect popup type to display the most attention-grabbing message to your visitors for maximum engagement.
Classic
The most effective and popular way to grow your email list.
Slide-in scroll box
High-converting alternative for popup that slides from the corner.
Sticky Bar
Increase the conversion rate with a footer or header sticky bar.
Sidebar Box
Turn every page of your website into a lead generation opportunity.
Fullscreen
Create a fullscreen box with a call to action that can't be ignored.
Welcome Mat
A screen-filling box that slides-in and pushes the content down.
Floating button
Let visitors trigger a popup by clicking on a floating button.
Bordering
A screen-filling box that slides-in and pushes the content down.
Smart Triggers
Detect your visitors' behavior and use smart triggers to display the right popup to the right person at the right time.
On Page Load
Automatically display a popup when a visitor opens your site.
On Click
Show a popup when the user clicks on a button, link or banner.
On Scroll
Automatically display a popup when user scrolls % of page.
Timed Display Control
Trigger a popup after X seconds of browsing a page.
On Hover
Show a popup when user hovers on specific parts of the page.
Idle Trigger
Target inactive visitors and convert them into subscribers.
AdBlock Detect
Detect visitors who are using an Ad Blocker software.
Exit Intent
Recover abandoning visitors into subscribers and customers.
Advanced Targeting
Every visitor is different. Why treat them all the same? Use precision targeting to show relevant messages.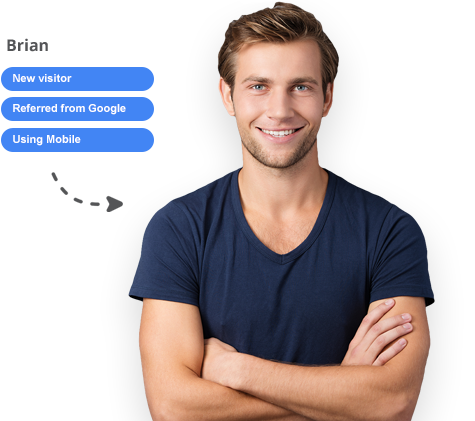 Referrer Detection
Show targeted messages based on where the user is coming from.
Page-Level Targeting
Show targeted popups based on the page the user is browsing.
Cookie Retargeting
Fine-tune your personalization with custom cookie retargeting.
Geo-Location Targeting
Personalize popups based on the visitor's physical location.
Device-Based Targeting
Create unique popups for desktop, tablet or mobile devices.
Date & Time Targeting
Target visitors based on the current date and time..
Page Views Count
Display specific offer after the user visits X amount of pages.
Joomla! User Group
Show different messages to logged-in and guest users.
Integrations & Apps
Create popups that react and adapt in real time so you can easily personalize, segment, and target for incredible conversions.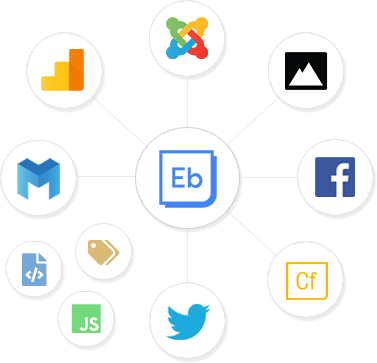 Google Analytics
Track popup events with your Google Analytics account.
Joomla! Modules Support
Transform any Joomla! module into a popup easily!
Joomla! Articles
Display popup to users who are browsing specific Joomla Articles.
K2
Display unique popups to users browsing specific K2 Items.
AcyMailing
Target visitors subscribed to specific AcyMailing lists.
Social Media Widgets
Promote your Facebook Page or Twitter account easily!
Smart Tags
Personalize your popups with dynamic smart content.
Custom CSS/JavaScript
Extend popup functionality by adding custom scripts and CSS.
Convert your traffic into customers and subscribers now
EngageBox generates more subscribers, leads and sales from the traffic you already have.
Get Started
5-star rating on the Joomla Extensions Directory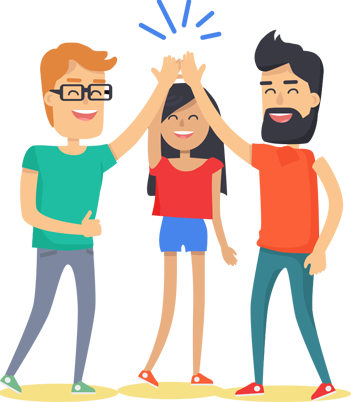 You're in good hands
Thousands of Joomla! users rely on EngageBox
269K
Total downloads since first release
1.4K
Active users are growing with us
502
5-star confirmed reviews on JED
2014
9 years of Joomla market trust
9 Reasons to use EngageBox
Unlock more possibilities without sacrificing usability or performance
Built for speed
Page speed and performance of your site are our priority. EngageBox is constantly optimised for the modern web.
SEO Friendly
We understand the importance of SEO and ensure that every front-end feature is optimized to meet the standards of search engines.
Accessibility First
Accessibility is built into our products from the beginning. We plan and test to make sure you can have an accessible website.
Responsive & Mobile Ready
Everything is responsive and works perfectly on every device. Support for all the latest versions of desktop and mobile browsers.
Regular 1-Click Updates
Regularly updated to ensure compatibility and offer new features with just 1 click. Getting better every day.
World-Class Support
Your success is our success, so our support team strives to go above and beyond to help.
Knowledge Base
Detailed documentation, how-to guides, troubleshooting steps, and more to help you resolve your issues.
No coding required
You don't need to write a single line of code or have any technical expertise when using EngageBox.
10+ Translations
EngageBox is available in more than 10 languages thanks to our devoted community. You can join them in Transifex.
Frequently Asked Questions
If you can't find the answer you're looking for send us a message