We are so excited to announce that after a lot of hard work, we have officially surpassed 600,000 downloads across all our Joomla extensions!
It took us over 1 year to hit the first 10,000 downloads. Then in less than a year, we quintupled to 50,000 downloads. However, the pace started to accelerate after that. It doubled to 100,000 downloads in the next 6 months. And after that, it took 16 months to achieve the 600,000 milestone.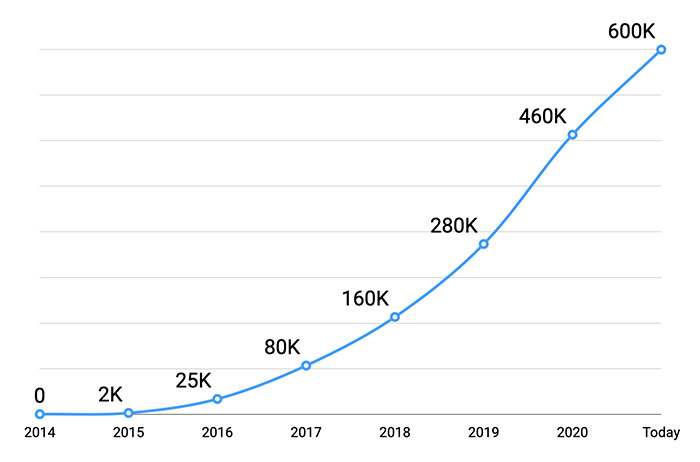 We can quickly get caught up in the statistical data trivializing what is actually important. Those numbers represent real people in countries all around the world. Those people all around the world are starting businesses, or taking their existing businesses online using our tools.
And that's what we are truly proud about.
A big thank you
This is a huge milestone and we'd like to express our sincere gratitude to each and every member of the Tassos.gr community for all the love and support we continue to receive from you.
If you've ever purchased a license, thank you!
If you've ever submitted an issue, thank you!
If you've ever submitted an idea or a feature request, thank you!
If you've ever contributed to translations, thank you!
If you've ever told a friend or colleague about Tassos.gr extensions, thank you!
If possible, we would mention all the thousands of website owners and webmasters who have supported and entrusted our software over all the other options in the Joomla market. However, it's not physically possible. Instead, here's what we will do. We are sending six hundred thousands smiles and hugs to all of you!
We feel very fortunate to have you and we promise to keep listening, learning, and delivering on our apps that save your time and help you grow your business. We've paved a road for much future innovation and exploration in the Joomla space.
How we're celebrating
To celebrate this milestone we are running a flash 72-hour promotion, site wide, across all our Joomla extensions as a thank you for helping us go this far. Use the coupon code TASSOS600K on checkout and you'll receive 30% off your purchase. That's a significant saving that for some might mean a new extension to help cater for your customers better, for others that might be that little push you need to try out one of our products for the first time. Trust us, you won't be disappointed.
Thanks again for your support - We couldn't have done this without you.
Coupon code terms
The coupon code expires on 26th June 2021
The coupon code can't be used in conjunction with other discounts.