After many many user requests, your favorite Joomla Form Builder has now its own Drag & Drop File Upload Field which allows you to collect files from your website visitors. It could be a document, an image, a video, music or any other file. The Convert Forms File Upload Field is designed to work flawlessly on mobile and desktop devices while it maintains an elegant, clean and modern interface.
File Upload Field Highlights
Let's see some of the features that make it stand out on the Joomla! market.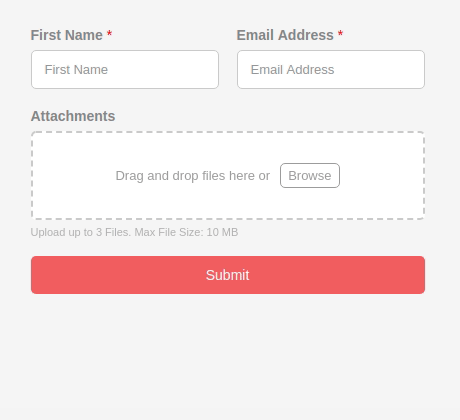 Drag & Drop enabled
Responsive & Mobile Ready
Auto-upload files in the background. No page redirections.
Define upload folder per field
Attach multiple files on the same upload
Set maximum allowed file size
Restrict uploads to certain file types
Auto delete old files from your server
Include uploaded files on Email Notifications
Send a copy of the uploaded file to Dropbox, Google Drive or Amazon S3. Using the Zapier Addon
To read more details about how the File Upload Field works and the available configuration, visit the File Upload Field guide.
2.2.0 Release Changelog
Below you can find all the changes introduced in the Convert Forms 2.2.0 release
New: Implements the File Upload Field.
New: Implements the Uploaded Files Cleaner plugin.
Adds Filter option to Text and Textarea fields to filter the user input.
Fix: Form doesn't accept '0' as a valid field value.
Fix: Dropdown doesn't respect the Field Size option.
Fix: PHP Notice: Undefined property: stdClass::$required in HTML field.
Fix: Clean unreplaced Smart Tags in the front-end.
Fix: Strange huge height in the dropdown listbox.
Fix: Date Range is not get validated on non-english locales.
Fix: Phone custom field doesn't get synched with ActiveCampaign.
Fix: Checkboxes, Dropdown and Choices Field doesn't accept '0' in the label option.
Fix: The Country and Currency fields don't take into account the Placeholder field.
Fix: AcyMailing List dropdown doesn't fetch AcyMailing 6 lists.
Leads are now called Submissions
Show an update notification in the dashboard when there's a new version available.
Update: Text editors in the form editing page don't force absolute URLs any more.
Update: JSON-API now renders field multiple values as array instead of comma separated values.
Sets minimum required Joomla! version to 3.8.0
Updatres translations: de-DE, es-ES, fr-FR