Advanced Custom Fields
Innovative custom fields for the new Joomla! era
File Upload Field
Upload multiples files with a modern drag-and-drop uploader. Create dynamic folders with Smart Tags to keep everything organized.
Get Started
93,922 downloads since 2017
Field Highlights
Find out why Advanced Custom Fields File Upload Field is the right choice for your Joomla site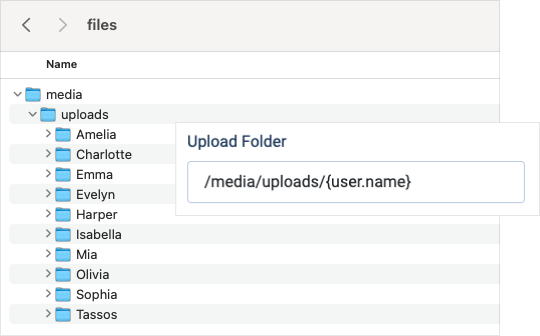 Custom Upload Folders
Store uploaded files anywhere on your site, and even use Smart Tags to create dynamic storage locations based on the user profile, current date and time, visitor device, and more. This feature provides better organization and faster file management.

Upload Size and File Type Restrictions
Set limits on the number of files a user can upload, the size of each upload, and the allowed file types. This feature ensures that the uploaded files align with your requirements and saves you storage space.

Resize Images
Save time, improve page load times, and enhance the overall user experience by automatically resizing uploaded images. Resize images by width or height while maintaining their original aspect ratio or crop images by both width and height.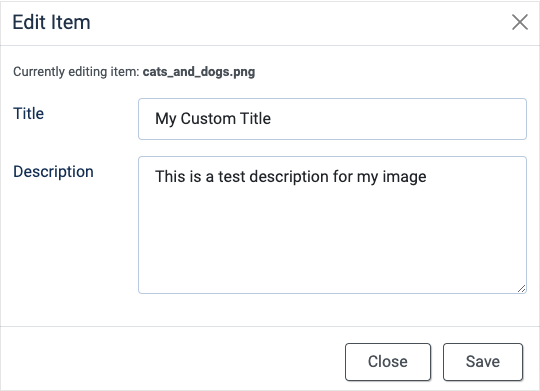 Custom File Titles and Descriptions
Add more context to your files by adding unique titles and descriptions. This will make it easier for users to identify files and know their contents. Additionally, this feature allows for better search engine optimization (SEO) and improved accessibility.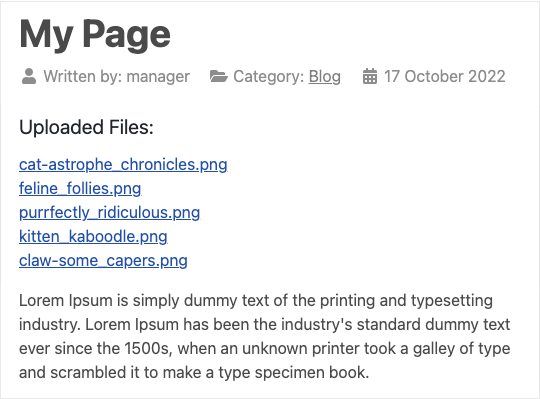 Display Downloadable Links
Set how uploaded files appear to visitors on the front-end. You can choose to display files as simple download links or images or create custom layouts using Smart Tags. This feature allows you to create an attractive and engaging user experience that matches your website's design and brand identity.
Add a File Upload Field in Joomla!
Take content creation to the next level and make your Joomla site stand out.
Get Started
5-star rating on the Joomla Extensions Directory
Explore more Joomla Custom Fields
37 lightweight and feature-packed Joomla custom field types
View all fields
9 Reasons to use Advanced Custom Fields
Unlock more possibilities without sacrificing usability or performance
Built for speed
Page speed and performance of your site are our priority. Advanced Custom Fields is constantly optimised for the modern web.
SEO Friendly
We understand the importance of SEO and ensure that every front-end feature is optimized to meet the standards of search engines.
Accessibility First
Accessibility is built into our products from the beginning. We plan and test to make sure you can have an accessible website.
Responsive & Mobile Ready
Everything is responsive and works perfectly on every device. Support for all the latest versions of desktop and mobile browsers.
Regular 1-Click Updates
Regularly updated to ensure compatibility and offer new features with just 1 click. Getting better every day.
World-Class Support
Your success is our success, so our support team strives to go above and beyond to help.
Knowledge Base
Detailed documentation, how-to guides, troubleshooting steps, and more to help you resolve your issues.
No coding required
You don't need to write a single line of code or have any technical expertise when using Advanced Custom Fields.
10+ Translations
Advanced Custom Fields is available in more than 10 languages thanks to our devoted community. You can join them in Transifex.
Add a File Upload Field in Joomla!
Take content creation to the next level and make your Joomla site stand out.
Get Started
5-star rating on the Joomla Extensions Directory