Welcome to the latest updates and announcements from our Joomla extension. We're dedicated to providing innovative solutions to enhance your Joomla-powered websites. In this article, we'll showcase recent updates, improvements, and new features across our product range. From advanced features in Advanced Custom Fields to the latest enhancements in EngageBox, Convert Forms, and Google Structured Data, we've got it all covered. Your feedback remains invaluable, and we encourage you to reach out with questions, thoughts, and insights. Let's see what's new for this month.
Table of Contents
Convert Forms 4.2.3: Exciting New Features and Fixes
We're delighted to introduce the latest updates to Convert Forms, version 4.2.3, enhancing your experience in building the perfect Joomla Contact Form. These updates bring new features and important fixes to make your form-building journey even better. Let's dive into what's new:
Brevo (SendInBlue) Integration
Introducing Brevo (formerly known as SendInBlue) integration for Convert Forms! This exciting addition allows you to seamlessly manage your user lists and update them whenever someone submits your forms.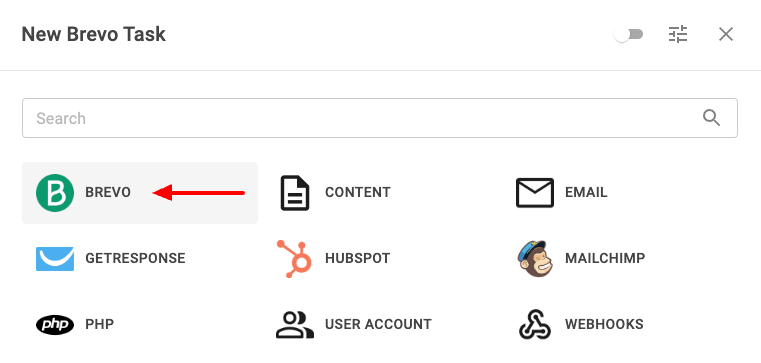 With Brevo integration, you can now:
Add or Update Users to Brevo Lists: Automatically add or update users to your Brevo lists, ensuring your contact lists are always current.
Option to Update or Not Existing Accounts: Choose whether to update existing accounts or only add new ones.
Map Brevo Custom Properties: Easily map Brevo custom properties to any form field, providing you with flexibility in data collection.
Run Brevo Integration Conditionally: Set conditions for Brevo integration, such as triggering it only when specific field values match certain criteria, like a checkbox being checked.
This integration offers a powerful tool to streamline email marketing efforts and maintain accurate contact lists.
Are you missing an integration with your favorite app? Let us know,
Improved Math Captcha
We've addressed a critical issue with the Math Captcha feature. In the past, even when users provided the correct solution, the form would display a "Wrong Answer" error under some circumstances. We've fixed this issue and enhanced the performance of the field in general. This feature is an excellent alternative to Google reCAPTCHA, effectively combating form spam without GDPR concerns.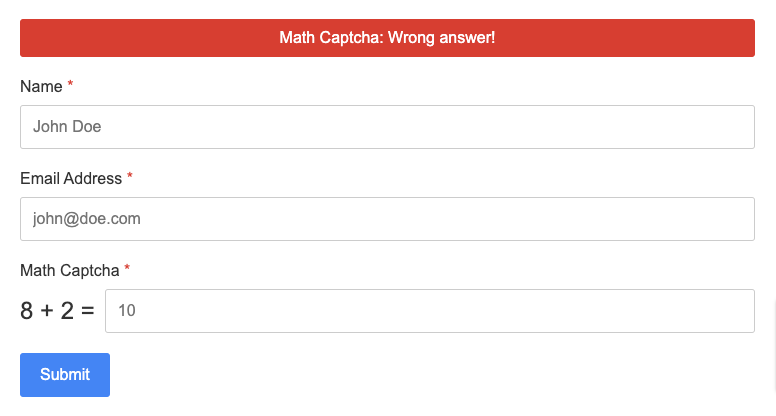 Suggested Article: How to Stop Contact Form Spam in Joomla
5 New Form Templates
We're thrilled to announce the addition of five new form templates to Convert Forms, making your form-building experience even more versatile and efficient.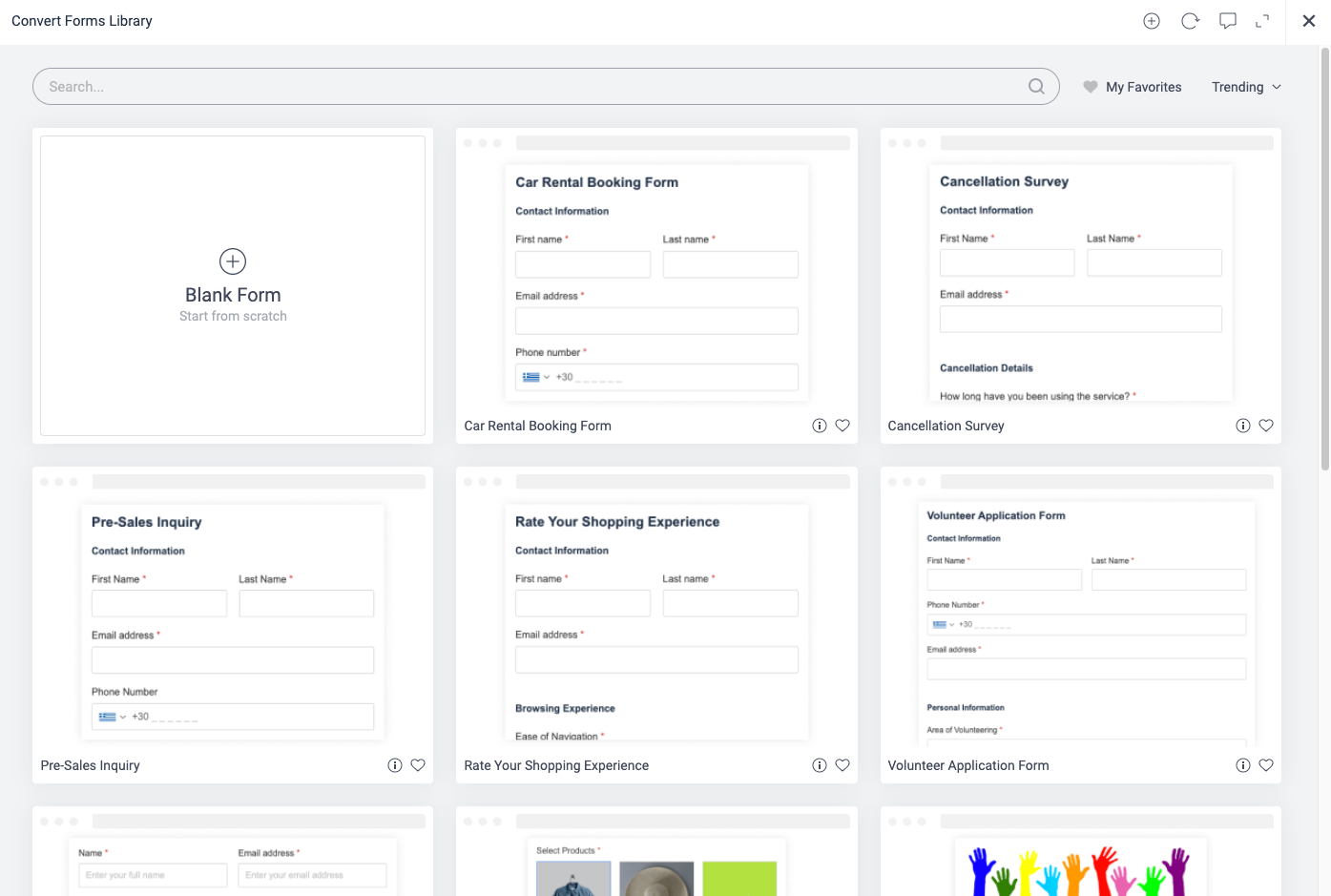 These new templates include:
These templates are designed to simplify creating various forms, from car rental reservations to gathering feedback and inquiries. They are ready to use and customize to meet your specific needs.
To get them, just hit the Refresh icon in the Convert Forms Library window.
Several Bug Fixes
In addition to these new features, we've resolved several issues to improve the overall user experience. These fixes include:
Fix: Phone Number Requirement: Previously, the phone number field would require a value even if it was set as optional. We've rectified this behavior to match your field settings accurately.
Fix: Drip Integration Improvements: We've made enhancements to the Drip integration, ensuring a smoother connection and data transfer.
Fix: Field Calculations Decimal Points: Field calculations now correctly respect decimal points, providing precise results in all cases.
Joomla 5 Compatibility: We've addressed an issue where forms couldn't be duplicated in Joomla 5, ensuring compatibility with the latest Joomla version.
Advanced Custom Fields 2.7.2: Exciting New Features and Changes
We are thrilled to introduce the latest version of our Advanced Custom Fields Joomla extension, version 2.7.2. This update has exciting features and important changes to enhance your Joomla website management experience. Let's dive into the key highlights:
Gallery Image Watermark
In September, we introduced the Gallery Slideshow Layout. This month, it's time for another great addition to the Gallery field, the Image Watermark! Now, you can protect your images with watermarks or add a personal touch to your image galleries effortlessly.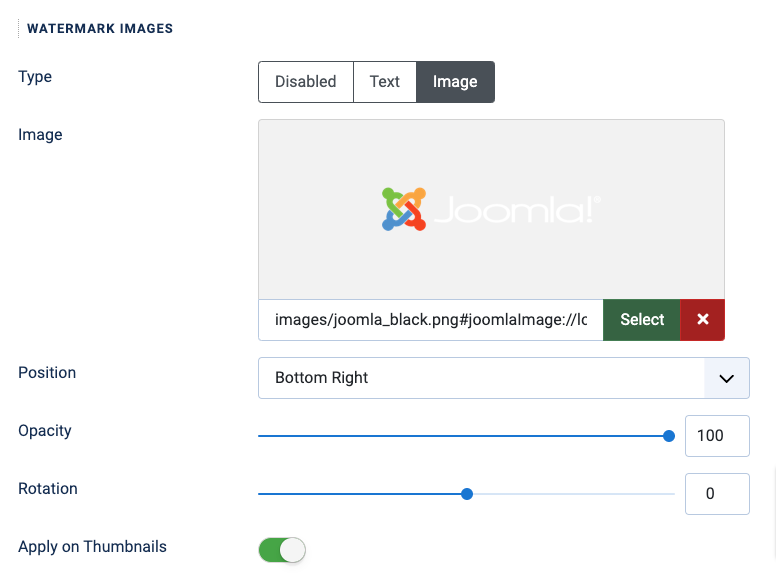 Here's what you can look forward to:
Text or Image Watermarks: Choose text or image watermarks for your photo galleries.
Smart Tags: Make your watermarks dynamic by including user names and upload dates.
Position Customization: Pick from 9 positions to place your watermark on the image.
Customization: Adjust text color, opacity, and rotation for the perfect look.
Retroactive Watermarking: Easily apply watermarks to existing images with a single click, eliminating the need to re-upload them.
Watermark Thumbnails: Watermark both the main images and gallery thumbnails.
Remove and Restore: Change your mind? You can easily remove the watermark and restore your original images. This feature provides full control over your image content, making it easier to protect and personalize your Joomla image galleries.
Visit the documentation page for more details about the Image Watermark feature.
Suggested Article: How to create a Photo Gallery in Joomla
File Upload Image Resize
In line with our commitment from the August Product Updates, we're excited to announce our continuous efforts to enhance one of the most popular custom fields in our collection: the File Upload Custom Field.

Listening to your valuable feedback, we are thrilled to introduce Image Resizing as a new feature for the File Upload field. This innovation will elevate your Joomla website to the next level by enabling you to effortlessly resize and optimize your images directly within your custom fields.
Here's what to expect:
Supported Image Formats: Image Resizing supports common formats like jpg, jpeg, png, gif, and webp, making it easy to optimize all your images.
Aspect Ratio Preservation: Resize images by width or height while maintaining their original aspect ratio.
Precise Resizing and Cropping: Resize and crop images by both width and height, ensuring your content looks just the way you want it.
Use it Anywhere: Image Resizing is not limited to the Joomla Article Editing Page; you can also use it in the User Registration Form. Whether enhancing your articles or empowering users to upload perfectly sized profile pictures, it's at your fingertips.
No Backup Clutter: Image Resizing resizes the original image, keeping your media library cleaner and more efficient without unnecessary backups.
Visit the documentation page for more details about the Image Resizing feature.
Removes Deprecated Fields
In July and May, we introduced two new all-in-one custom fields for Joomla: the Video Custom Field and the Map Custom Field. These fields provide comprehensive support for multiple providers, allowing you to create custom fields for YouTube, Vimeo, or even host your own videos with the Video field. Likewise, the Map field will enable you to create interactive maps using Google Maps, OpenStreetMap, or Bing Maps for your custom field requirements.
These new fields not only streamline maintenance but also elevate the user experience while paving the way for future innovations. With the introduction of these new fields, we are discontinuing using individual fields such as YouTube, Google Maps, and OpenStreetMap, as they are no longer part of the package.
Starting from version 2.7.2, we are replacing specific fields with all-in-one options.
The Google Maps, OpenStreetMap, and Bing Maps fields have been removed and will no longer be included in the installation package, making way for the Map field.
Similarly, the YouTube, Vimeo, Dailymotion, Facebook Video, and HTML5 Video fields have been removed and will no longer be part of the installation package, making room for the Video field.
Suggested Article: How to Easily Embed Videos in Joomla Articles
EngageBox 6.1.3: Maintenance Release
We are pleased to announce the release of EngageBox 6.1.3, a maintenance update to enhance the stability and performance of our Joomla popup extension. While this release doesn't introduce new features, it addresses several important fixes to ensure a seamless user experience. Here's a summary of the changelog:
Fix: PHP 8 Warnings: We've resolved PHP 8 warnings, ensuring compatibility with the latest PHP version and maintaining the robustness of EngageBox.
Fix: Very Tall Popup with Margin Bottom: In some cases, very tall popups with a margin-bottom setting would exceed the parent boundaries. We've addressed this issue to ensure popups are displayed correctly.
Fix: Prevent Page Scrolling Option: The "Prevent Page Scrolling" option sometimes caused the page to scroll to the top when the popup appeared. We've rectified this behavior for a smoother user experience.
Fix: Spanish Translation: The Spanish translation was causing issues in the popup editor. We've fixed this to ensure a seamless editing experience for Spanish-speaking users.
Black Friday is fast approaching, and it's the perfect opportunity to enhance your marketing strategy, engage your audience, and motivate them to act with compelling Black Friday Popups.
Google Structured Data 5.4.1: A Maintenance Release
We are pleased to announce the release of Google Structured Data version 5.4.1. While this update doesn't introduce new features, it addresses key fixes to enhance the stability and performance of this essential Joomla SEO extension.
Here's a summary of the changelog:
Fix: PHP Warning "Undefined Property": We've resolved a PHP warning when using CSS Selector, specifically related to the "css_selector_task" property. This fix ensures smoother operation when working with CSS Selector.
Fix: PHP Error "md5() Argument Type": Another PHP error related to CSS Selector has been addressed. This error, which involved the "md5()" function, is now resolved, eliminating interruptions in your structured data implementation.
Fix: PHP 8 Warnings: To maintain compatibility with the latest PHP 8 version, we've resolved PHP 8 warnings, ensuring seamless operation.
Fix: Toggle GSD Items: We've improved the ease of toggling a Google Structured Data item in the Items page, enhancing the user experience when managing structured data.
Fix: JoomShopping Product List: When the default language is not "en-GB," the Product List would sometimes be empty in JoomShopping 5.0+. We've fixed this issue, ensuring proper functionality across different language settings.
Our extensions are Joomla 5 Ready
Great news for our customers! All our Joomla extensions are fully compatible with the latest Joomla 5 release, providing a seamless experience for those considering an upgrade. Our extensions currently rely on the Backward Compatibility Plugin to function smoothly, making the transition to Joomla 5 effortless. Looking ahead, we have exciting plans to rewrite our extensions as native Joomla 5 versions, eliminating the need for the Backward Compatibility plugin.
To learn more about our commitment to compatibility and support, please visit the original article here. Your feedback remains essential as we strive to deliver the best Joomla extension experience.