If you're a website owner, then for certain you belong from a business domain. Whether it's a personal blog or a huge digital store managing numerous products online. And it has an elegant layout that attracts the users at the first moment. However, to optimize its user interaction, it's necessary that with other web elements it should have a contact form.
Therefore, in this tutorial, I'll share the steps that would help you create a contact form on your Joomla! site effortlessly. If you're wondering why you need a contact form, then the following section will help you clear your mind.
Moreover, to create our Joomla contact form, I am going to use our free Joomla form builder, Convert Forms. So, you can have the best contact form on your site in no time without spending a cent.
Why do you need a contact form?
There are many reasons that make a website owner wonder why they need a contact form. However, among those many reasons, what put a website owner in dilemma most of the time is,
If they can add their email address, using which people can contact them, then why bother with a contact form.
Second, it might need them to know some coding to get the form up and running on the site. And it's something they don't know and want to indulge in. And if they'd try, it might break the site. So, better stay away from it.
But that's not how things work today. Joomla has evolved and with that, how you create a contact form, which doesn't even require coding and designing skills. And the question you have in your mind is very common among beginners which you should let go.
Instead, look at the bright side of using it. For instance, a contact form can save time and offer more benefits, like the following,
It allows users to contact you easily
Rather than opening their inbox and composing an email, users can easily send the message right on the site. Plus, with an email notification, you can quickly know who has contacted you and manage every message effortlessly without losing track.
It can help you grow your email list
To make an online marketing campaign successful, having an email list is vital. And with a contact form it's easy as you can integrate it with marketing automation platforms like Mailchimp. No more manual work to save emails and build an email list.
Collect complete & additional information
Whether it's for support or general query, sometimes users don't provide complete information. As a result, it can increase your workload of asking more details to further look into the problem. But, with a contact form, you can have everything in the first place.
Spam protection
If you leave your email freely visible on the site, you'd have spam emails coming in your inbox. However, by creating a contact form using a Joomla form maker, you can restrict those. All you have to do is enable spam protection like Google reCAPTCHA or double opt in.
Looks professional
Besides the above benefits, a contact form helps your website stand out as a professional. It gives more credibility to your business and visitors like to do business with you. Or try your services.
4 Easy Steps to Create a Contact Form in Joomla With Convert Forms
We've looked at why you should not wonder using a contact form. Plus, we've also discussed the benefits of using it. Now, let's create the Joomla contact form by using Convert Forms below steps one by one to do that easily.
Step 1 - Install Convert Forms
To create our Joomla contact form, first, we need to install the contact form extension Convert Forms.
To do that, go to System → Install → and open Extensions.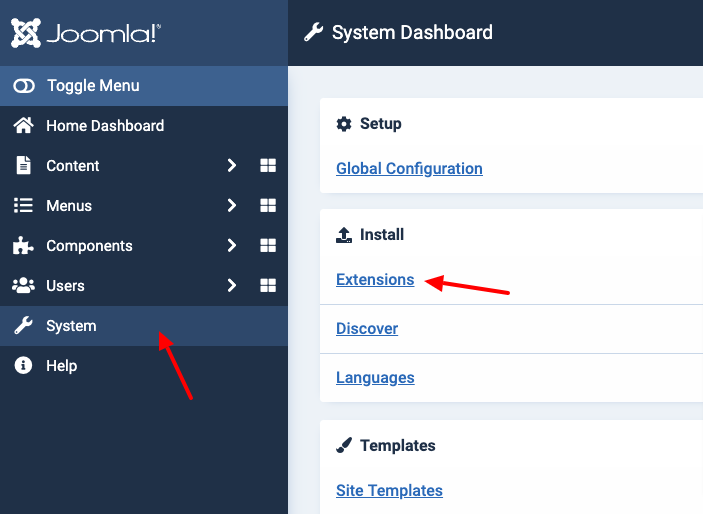 Then click Install from Web → search Convert Forms → and open the following extension.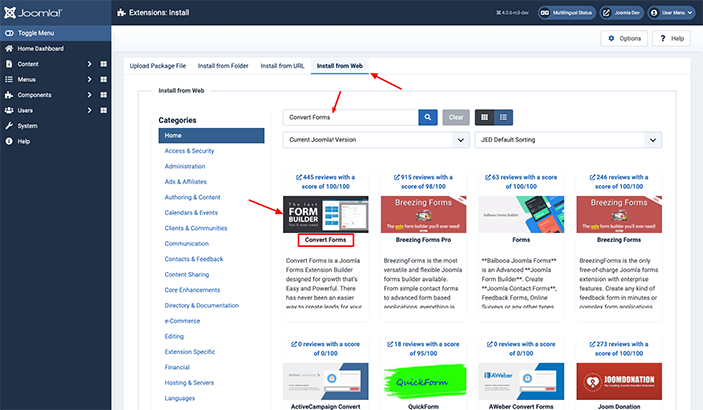 It will open a new window with extension details. Here, click Install, and again click Install at the bottom.
We have installed the extension. Now, let's create our Joomla contact form.
Step 2 - Create a Contact Form
To create the form, go to Components → and click Convert Forms.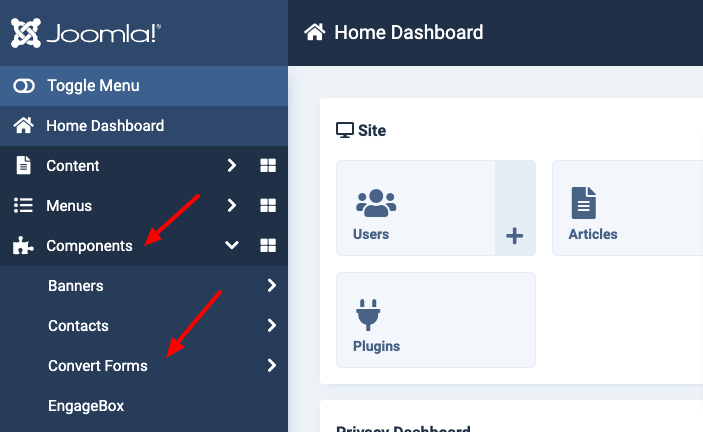 From the dashboard window, click New Form.
Then, from the templates popup, click Start from scratch.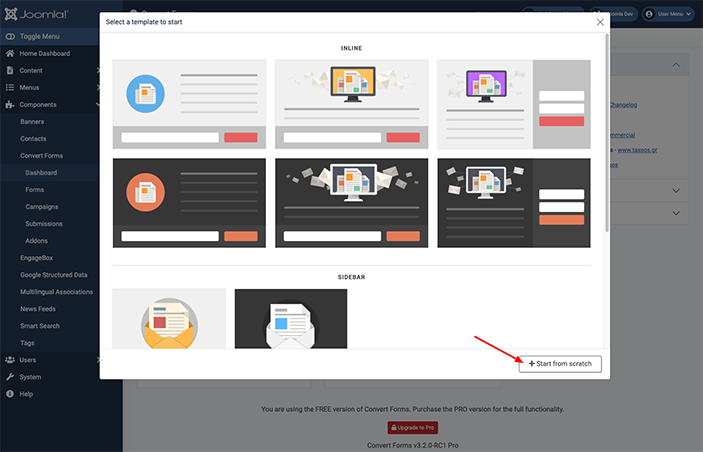 By default, Convert Forms creates a form with two fields: one for email address and another for name. It also includes a Submit button.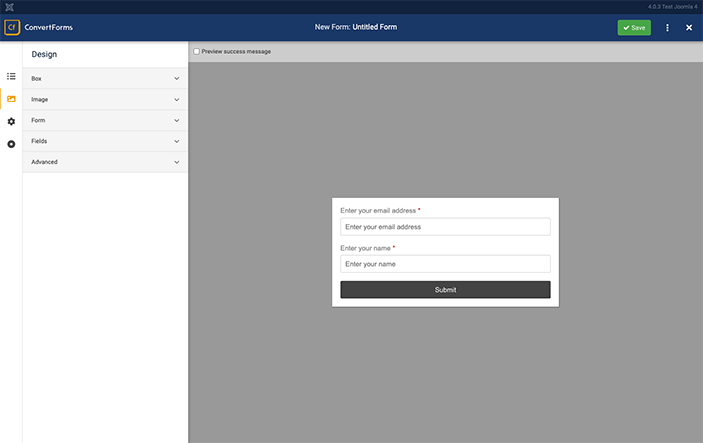 We have to add two more fields to the form. One for Subject and another for Message. Therefore, go to Add Field, and click on Textbox and Textarea.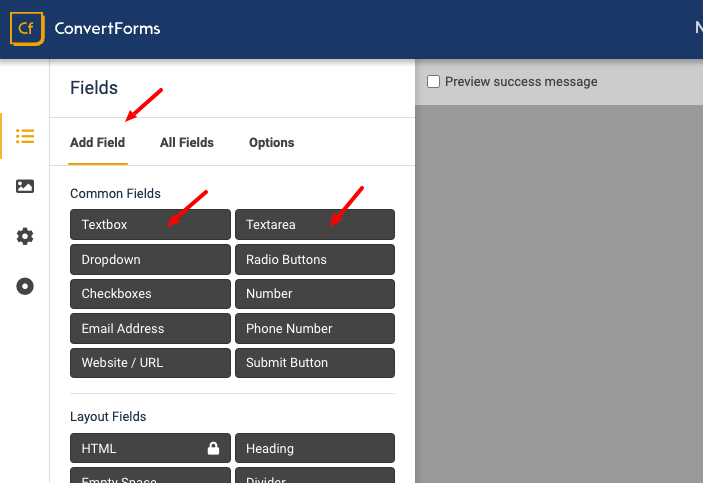 Once the fields are added to the form, head over to them, and change their Field Label one by one. Use Subject for Textbox and Message for Textarea.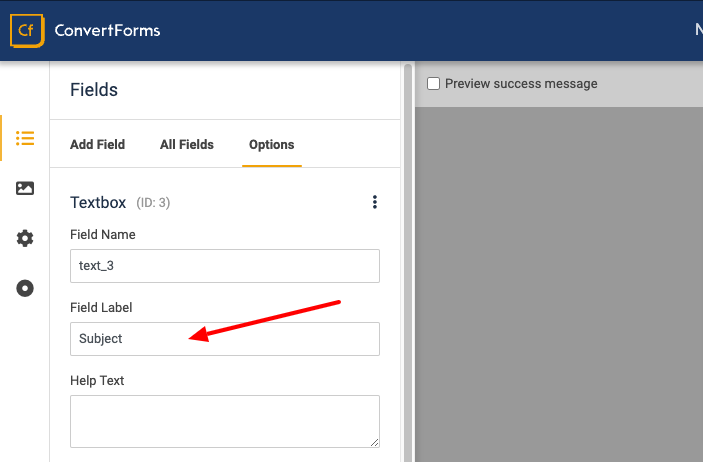 If you like to rearrange fields' placement, go to All Fields and drag the fields per your liking to arrange them.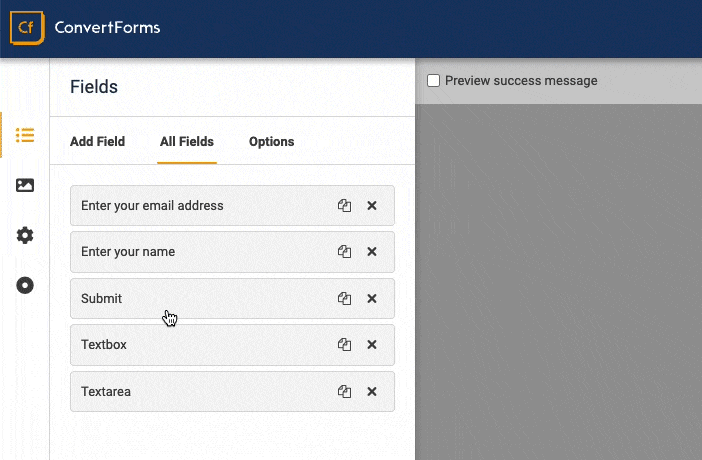 After rearranging the fields, you'll have your form like the below.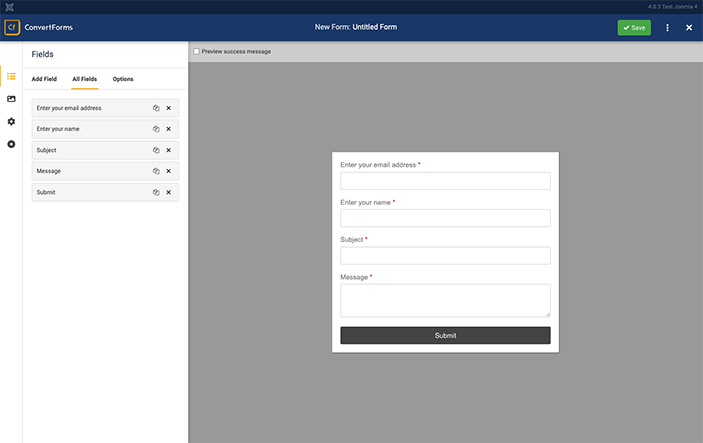 Step 3 - Set Up an Email Notification / Auto Responder
Once the fields are added, we need to set up an email notification or auto responder for every submission we get. To set up this, go to Behavior (⚙) → Email Notifications → click the toggle and it will enable the email notification.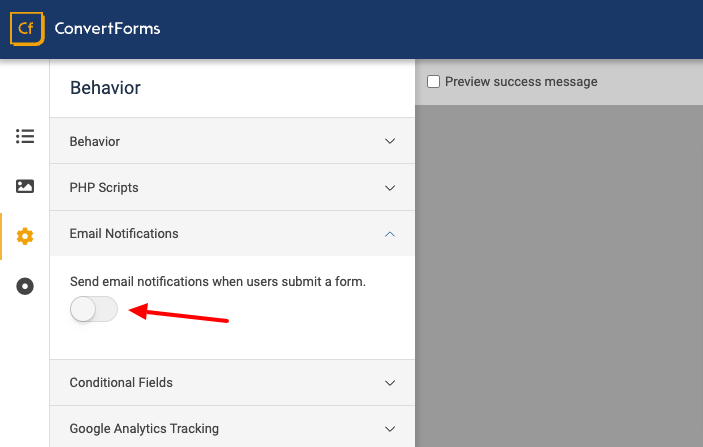 However, to complete this process, you need to input the required details in the following fields it opens.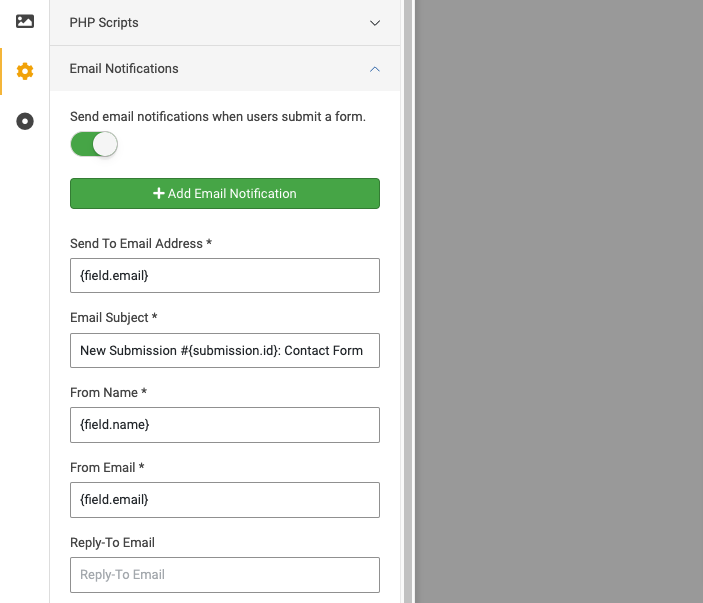 Once you input the details according to the requirement, move to the next step to embed the form.
Step 4 - Embed the Form on the Front-End
Before embedding the form, go to New Form and provide a title to the form. Then click Save.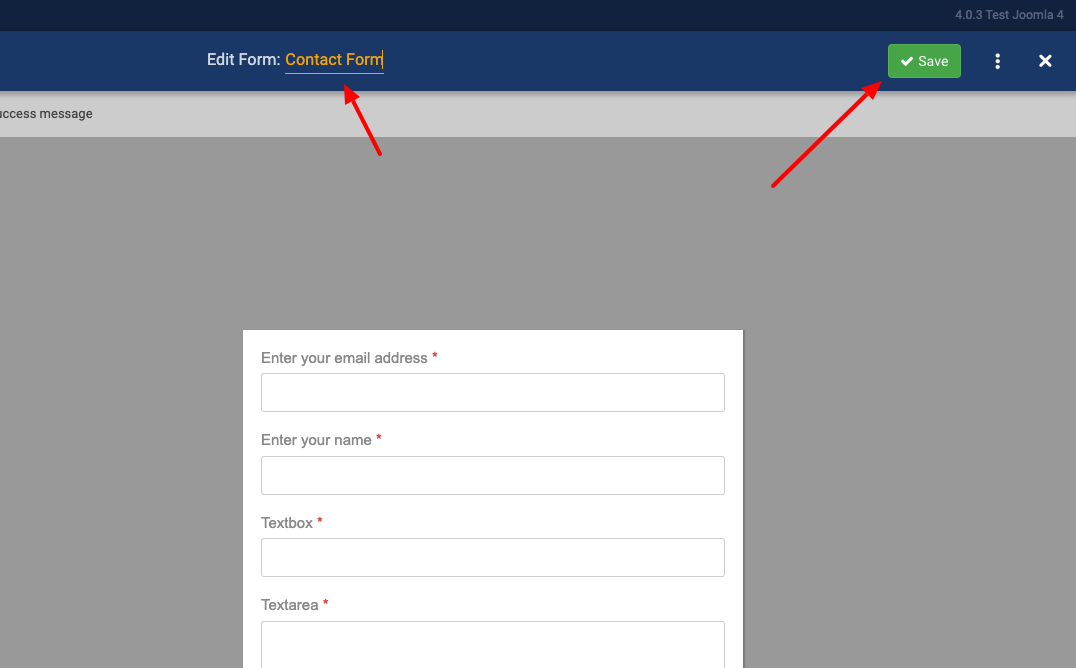 After this, go to the three vertical dots → and select Embed.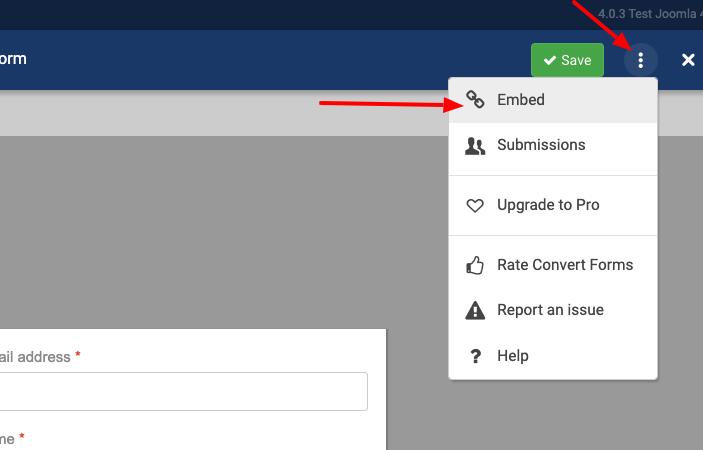 A popup will appear with the contact form's shortcode. Copy it and close the popup.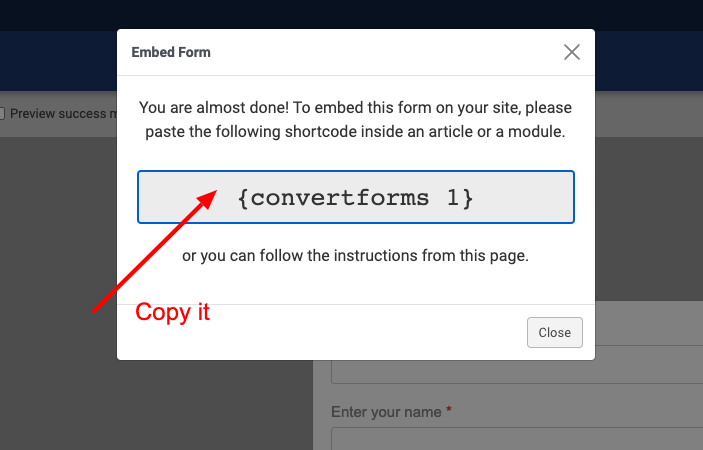 Go to your Article where you want to display the form. Simply paste the code in the text editor.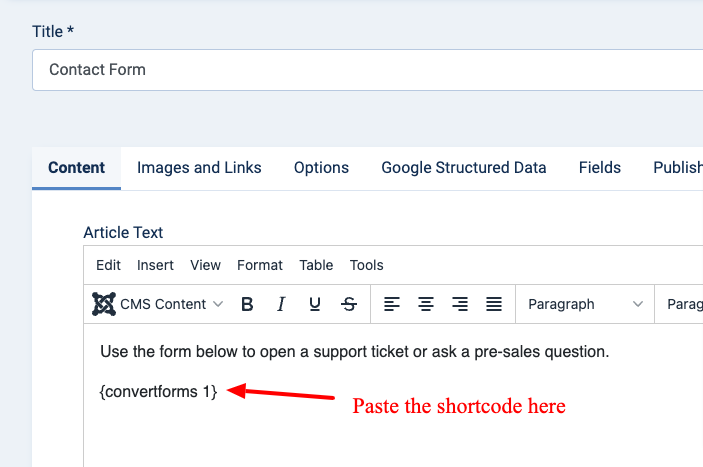 Then, save it and the form will display like the following.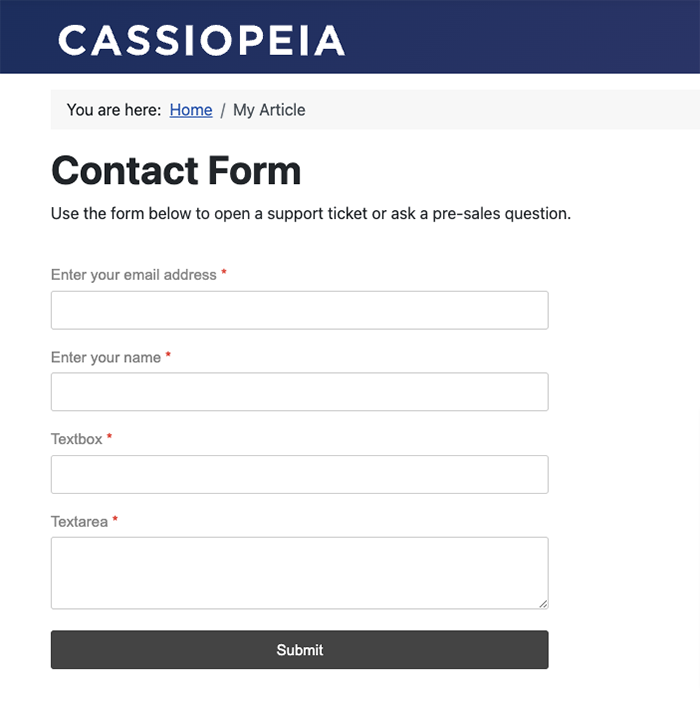 That's it; you've successfully created a contact form using our free Joomla form builder Convert Forms.
What's next after a simple contact form?
By following the above steps, you can build your Joomla contact form quickly with no coding. Plus, by utilizing the intuitive options, you can transform the form that matches your site's theme.
Yet, that's not all you get with Convert Forms. There's more to it that allows you to customize the form to its fullest per your needs. And you can do that with every single form you create with Convert Forms Joomla form builder!
As per your requirements, you can have the following extensive features:
Wrapping up
Above, we've looked at how you can create highly functional Joomla! contact forms using Convert Forms. Plus, it provides you with pre-built designs that make it easy to create your forms quickly & effectively. Furthermore, it's available for free. So, you can have all the great benefits of using a contact form at no cost.
Simply put, if you need contact forms on a Joomla! site, then our extension is far beyond better. Further, it gets even more functional & effective with the premium version starting from €29/year.
Thus, to build contact forms in Joomla!, Convert Forms is the last Joomla form builder you'll ever need!
I hope this tutorial helped you learn how you can create contact forms in Joomla! using a free contact form builder. If you have any thoughts or doubts, let me know in the comments. I'll be more than happy to assist you.
Happy leads capturing!