The Convert Forms Zoho Campaigns Integration is based on the ZohoCRM API v1 which has been deprecated since 31, Dec 2018 and it doesn't work anymore. We're currently working on a fix but there's no projected date yet when the will be available.
Until then, we recommend using Zapier to connect your forms with Zoho Campaigns and continue pushing your submissions. Learn How to connect Convert Forms with Zapier.
Convert Forms offers seamless integration with Zoho Campaigns. Connecting Convert Forms to your Zoho mailing list is very easy. Follow our step by step guide on how to connect Convert Forms with Zoho.
---
1. Addon Installation
Navigate to Components > Convert Forms > Addons
Click the Cog button for the Zoho Campaigns Addon. A popup will appear where you can enable the addon.
Click on the Status and select Enabled.
Now you can click on Save & Close button to save the enabled addon.
2. Campaign Setup
To setup a Campaign with Zoho, follow the steps below.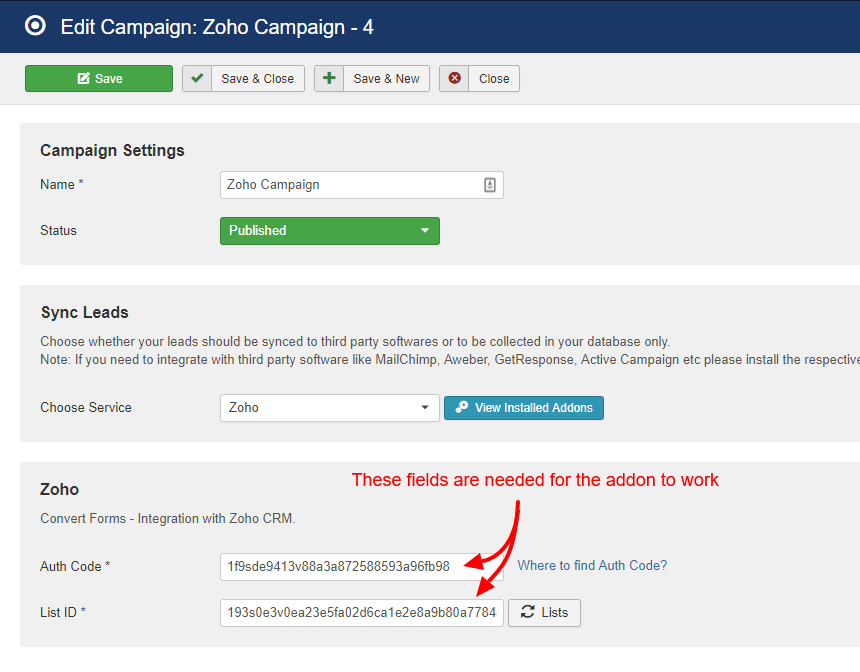 Navigate to Components > Convert Forms > Campaigns
Create a new Campaign by clicking New
Type a name for your Campaign. This name can not be seen by anyone else but you.
For the Sync Leads > Choose Service selectbox choose Zoho. If you can not find the Zoho option then you do not have the Zoho Addon installed and activated. In that case, please go back to the top of the article and see how to install the mandatory addon.
Save the Campaign for the special Zoho fields to show up.
Zoho needs:

An Auth Code: How to generate it
A List ID: Once you click the Lists button as shown in the screenshot above, a dropdown of your available Lists will appear and you can select the List you are interested in populating.

Click Save & Close
3. Disable Zoho Double-Optin
Zoho does not allow disabling Double-Optin when using their API.
5. Email Field and available Zoho Fields
For a Convert Form to successfully store an email address to your Zoho account it needs to have an email field. This field is already set up at the time of creating the form and you don't have to change its input value as it is already configured for you.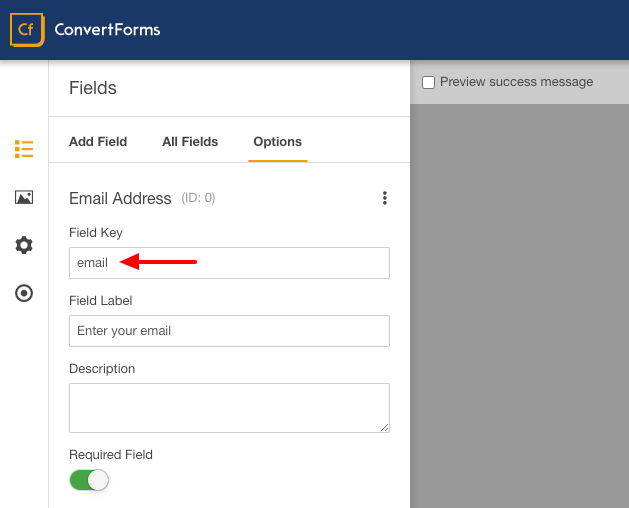 On top of the email field, Zoho provides by default an extensive list of optional fields for you to use. These are the following:
First Name
Last Name
Company Name
Phone
Address
City
State
Zip Code
Country
Website
Note
Title
Job Title
Secondary Email
Mobile
Twitter Handle
Facebook Handle
Linkedin Handle
Lead Score
Lead Source
Is Converted
To be able to use them inside your ConvertForm you need to use them as they are in a Field Name.
6. Zoho Custom Fields
In order for you to store more user data, you must utilize Zoho's Custom Fields.
You can configure your Custom Fields through your Zoho Settings. To do that, click on the bottom left "Settings" button and then click on "Customization" > "Custom Fields" option.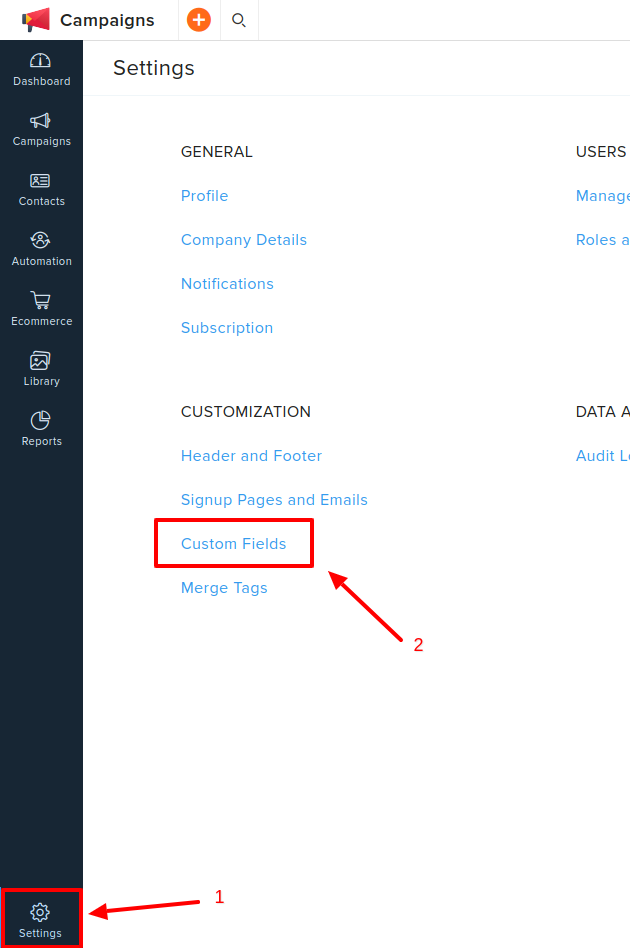 Once there, you'll see a screen like the one below in which you are able to identify the extra fields you have created or will create. As you can see in the screenshot below, as an example, we have the fields Age and Country of origin to collect the Age and the Country of origin of the user respectively.

With the fields you have configured on your Zoho Account, you can now proceed and use the same ones in your Convert Form. For example, we used the Age field in our Form in the screenshot below.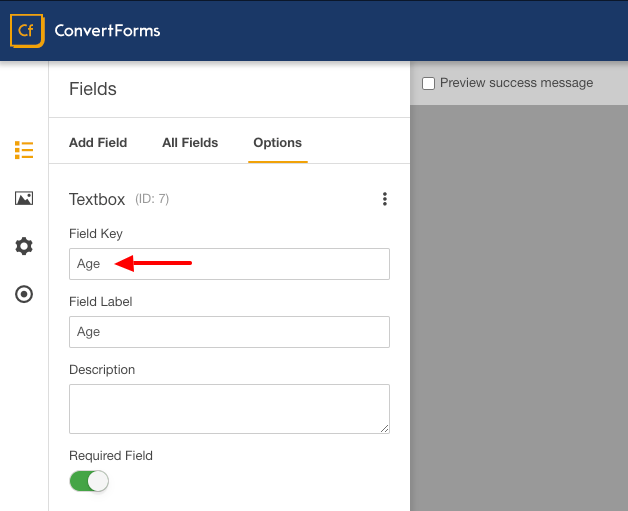 7. Assign form to Campaign
Of course don't forget to assign the form to our newly created Campaign! See the screenshot below to understand where to assign it.