The Device Condition lets you decide for which types of devices you'd like the box to be displayable. You can select for the three major device types, desktops, mobiles and tablets.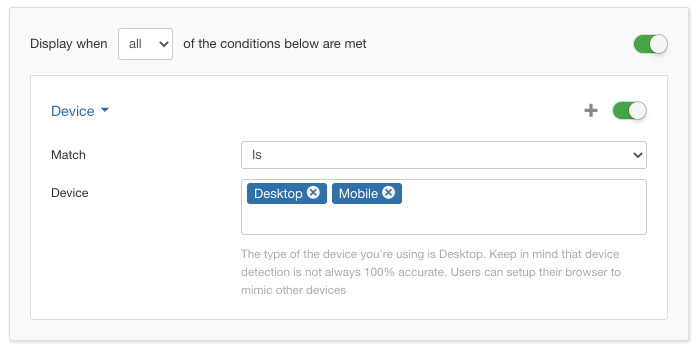 Options
In the table below you can see which options are available to setup the Device Condition.
| Name | Description |
| --- | --- |
| Match | Set whether to match or not the selected devices. |
| Device | This option lets you choose at least one choice of device type. You just click on the field and select one or all three of the available choices below: |
Use Case
A very common use case for the Device Condition is when you want to pursue a different strategy for your mobile users and your desktop users. This way you can show completely different content to each of them.
Useful Notes
It is very important to remember that device detection is not 100% accurate. Some users are able to change their identifying credentials to appear as desktop users while on mobile and vice versa.