The Time Condition gives you the chance to have a fine control on exactly which time periods of the day you need the box to be displayed. You can choose the starting time and the end time with an easy to use timepicker.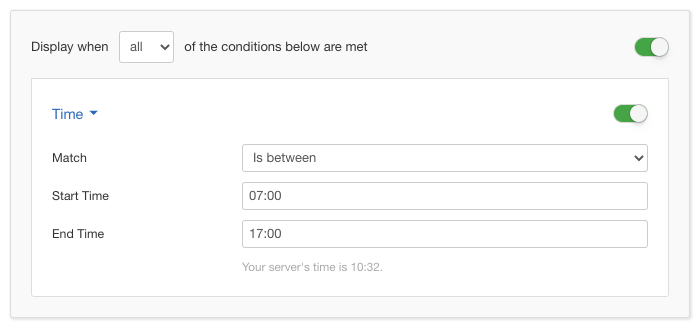 Options
In the table below you can see which options are available to setup the Time Condition.
| Name | Description |
| --- | --- |
| Match | Set whether to match or not the selected times. |
| Start Time | The Start Time is a timestamp in the following format Hour:Minute using the 24-hour type. You can either type it in manually or you can click on the time icon at the right end of the textfield and select your time with an intuitive timepicker. |
| End Time | The End Time can be configured in exactly the same way as the Start Time. |
Use Case
A very common use case for the Time Condition is assigning a box which is targetted at the audience reaching your website on peak hours. Of course for each website the peak hours are different but that is easily distinguishable nowadays just by taking a glance at your analytics.
Useful Notes
It should be pointed out that ommitting anyone of the Times is counter-intuitive and counter-productive as there's no time period this way and the box will always be displayable. It is highly recommended that you use both of them.