The EngageBox - Viewed Another Popup Condition is for the occassions where you want to show a box in sequence to a previous one. You can select one or more boxes that you have published in your Joomla website.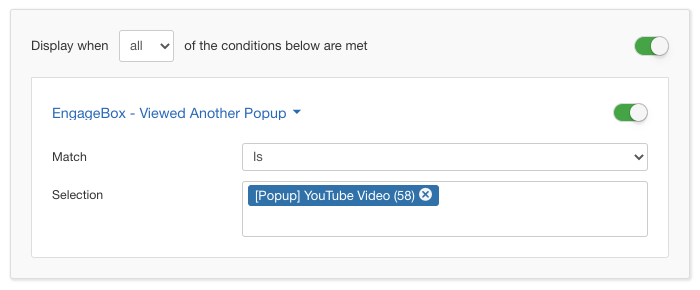 Options
In the table below you can see which options are available to setup the EngageBox - Viewed Another Popup Condition.
| Name | Description |
| --- | --- |
| Match | Set whether to match or not the selected popups. |
| Selection | Click on this option to immediately get a dropdown of all the boxes that are currently published. You can of course start typing to filter the results on-the-fly. When you have found what you were looking you can continue for the second if you want. |
Use Case
The perfect use case for this Condition is when you want to display a second box only when the User has seen a previous one that belongs into the selection list. This sequential ability can be used in a multitude of scenarios.